Volkswagen Could Challenge Tesla in the EV Market: Time to Buy?
There has been a big churn in the automotive industry amid the transition towards zero-emission vehicles. Like its peers, Volkswagen (VWAGY) is also investing heavily in zero-emission vehicles. Is Volkswagen a good investment in 2021 and how can you buy the stock in the U.S.?
Article continues below advertisement
There's a consensus now that the future of the automotive industry is zero-emission even as there is a debate on whether it would be all all-electric future or would cars running on hydrogen fuel cells also grab a meaningful pie of the global automotive sales.
Article continues below advertisement
Volkswagen Dieselgate scandal
Over the last few years, Volkswagen has faced several controversies including the Dieselgate scandal where it admitted to installing emission-cheating devices in its cars to show better emission results. The company had to pay billions of dollars in fines related to the scandal.
To make things worse, investors have been cold towards legacy automakers like Volkswagen, Ford, and General Motors. The pessimism shows in the valuation of legacy automakers who trade at a much lower valuation compared to pure-play EV stocks.
Article continues below advertisement
Volkswagen's stock performance
Volkswagen stock has risen at a CAGR of only 5.4 percent over the last 10 years, which is way below Tesla's growth during the period. However, there has been a notable shift from EV stocks towards legacy automakers. Volkswagen stock has risen 25 percent in 2021 even though EV stocks are sagging. Ford and General Motors are also outperforming EV stocks in 2021.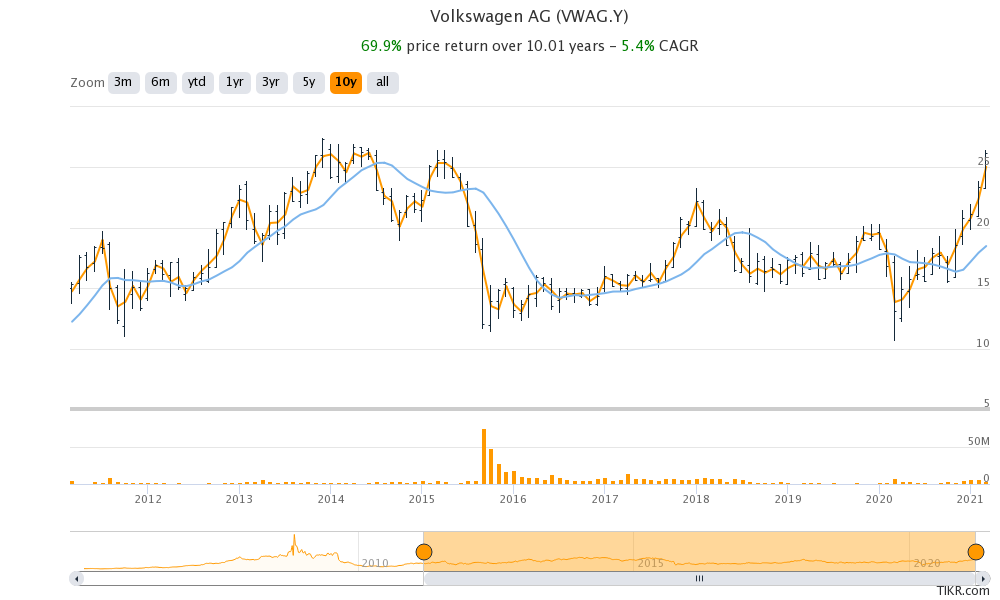 Article continues below advertisement
Volkswagen's promising future
Volkswagen has scaled up its EV plans. The brand delivered 134,000 battery-electric cars in 2020—almost triple what it did in 2019. To put that in perspective, Tesla delivered almost half a million electric cars in 2020. While Volkswagen still lags behind Tesla in EV sales, it's catching up quickly.
Volkswagen's ID.3, whose name is somewhat similar to Tesla's Model 3, was the best-selling electric model in Europe in December 2020 with 68,800 deliveries. Volkswagen also expects to launch its electric SUV ID.4 in 2021.
Article continues below advertisement
UBS is bullish on Volkswagen stock
UBS expects Volkswagen's electric vehicle volumes to catch up with Tesla in 2022. UBS forecasts that both of the companies will deliver 1.2 million vehicles each in the year. The company expects Volkswagen and Tesla to be the market leaders in the EV market.
Article continues below advertisement
Tesla versus Volkswagen
Based on the current dynamics, Tesla looks a better play on the EV and autonomous markets. In 2019, even Volkswagen admired Tesla's software capabilities. Tesla's battery technology is also ahead of the competition. Add the splendid hardware and a cult brand and Tesla offers a nice value proposition.
Globally, Volkswagen's cars are known for reliability. The company has scalability and a massive distribution network where it scores above Tesla. Volkswagen's investments in EVs and autonomous driving will pay off in the long term.
Article continues below advertisement
Volkswagen looks like a good stock to buy
Looking at the valuations, Volkswagen stock looks attractive. It trades at an NTM PE multiple of 8.3x, which is even lower than Ford and General Motors. As Volkswagen scales up its EV sales, the markets will rerate the stock.
Article continues below advertisement
While Volkswagen might not get the kind of premium valuations that pure-play EV stocks enjoy, there's a scope for multiple expansions that could take Volkswagen stock much higher from these levels.
How to buy Volkswagen stock in the U.S.
Volkswagen doesn't trade on the U.S. stock markets. However, you can buy it on the OTC exchange where it trades under the ticker symbol "VWAGY." While volumes on the OTC exchange can be a concern, VWAGY stock has an average volume of over 350,000 shares, which looks decent.
Some of the brokers might also let you trade in foreign stocks. You could open a broking account and trade in Volkswagen shares listed on the European stock markets.