Meme Stock ZOM is On a Move (Again), Should You Buy Now?
Meme stocks have created ripples this year. GameStop (GME) and AMC Theatres are among the most prominent meme stocks where retail traders led by Reddit group WallStreetBets triggered a massive short squeeze. Pet health diagnostic company Zomedica (ZOM) is among the meme stocks that have caught the market's attention. What's the forecast for ZOM stock in 2021? Is it a good stock to buy?
Article continues below advertisement
ZOM stock hit a 52-week high of $2.91 but is currently down over 21 percent from the peaks. However, the stock is on a move again. It gained over 9 percent on Mar. 12 and opened sharply higher on Mar. 15.
Why is ZOM stock rising?
ZOM stock is rising on optimism over its diagnostic device called Truforma, a point of care device meant to be used by veterinary doctors. The platform would help detect thyroid and adrenal diseases in pets, and many see it as a potentially game-changing product.
Article continues below advertisement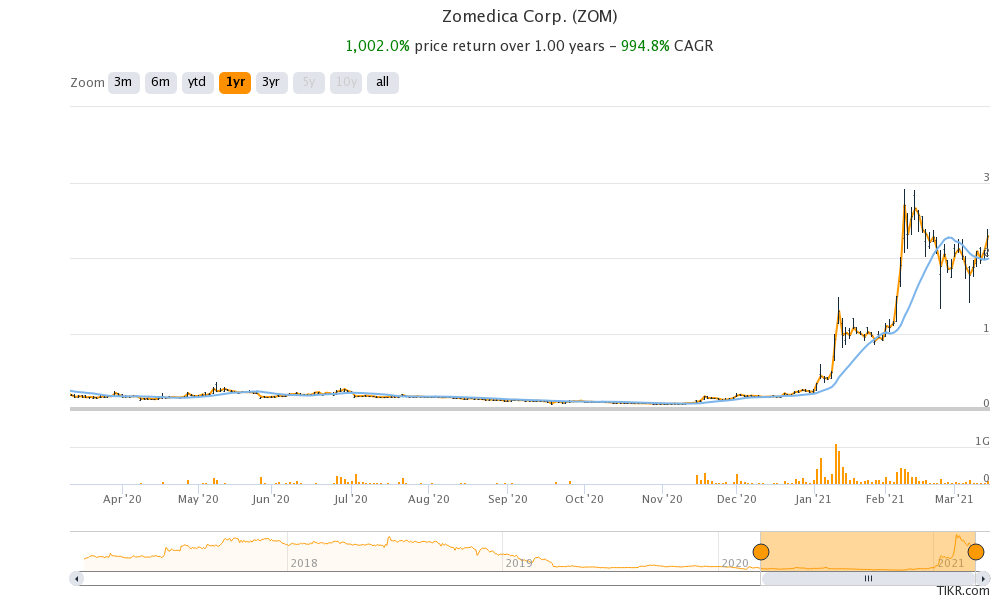 Truforma's commercial launch date is set for the end of March.
Having Truforma with them would help doctors make quick decisions about the treatment of pets. Furthermore, the samples need not be sent to a diagnostic center as is the case now for most pet lab tests. Zomedica expects a commercial launch of Truforma by the end of this month.
Article continues below advertisement
Markets are quite excited about Truforma even as I could not find much publicly about the market opportunity for the product. Zomedica is pretty much a clinical-stage company and its fortunes are dependent on the success of Truforma even as it might develop and commercialize more products in the future.
Clinical stage companies tend to be very volatile, as is visible in ZOM's stock price. It was trading near 6 cents a share in Nov. 2020 and was on the verge of delisting. However, the stock has been on fire since then and is up almost 900 percent YTD.
Article continues below advertisement
ZOM is in the news for issuing new shares at a discounted price.
Like most other companies that capitalized on the surge in their stock prices, ZOM also issued shares. In fact, it issued much more shares than it had intended to offer initially but at a discounted price.
Article continues below advertisement
The capital raised would help the company fund the cash burn even as before this issue it had said that it has enough cash to fund itself until 2023 and it expects to be cash flow positive by that time frame.
But then, the lure to capitalize on higher stock prices is nearly always too tempting. Even Tesla issued shares thrice in 2020 despite its CEO Elon Musk denying the possibility of a capital raise in Jan. 2020. Visibly short of investment opportunities, Tesla found solace in parking excess cash in bitcoin.
Article continues below advertisement
Share issuance comes with a long-term cost of earnings dilution. But then, markets have been willing to ignore that at times and sent stocks higher on news of capital raise, as was the case with Tesla.
Article continues below advertisement
ZOM stock forecast is murky due to low analyst insight.
Only one analyst is covering ZOM stock as it is still a penny stock. It has a median price target of $1.20 according to the data compiled by CNN Business, which is a 48 percent discount over the next 12 months. That said, it wouldn't be prudent to base the investment decision on only one analyst's forecast.
Is ZOM a good stock to buy?
In its filing, citing data from MarketsandMarkets, ZOM said that the market for companion animal diagnostics market is expected to rise from $1.7 billion in 2019 to $2.8 billion in 2024. The market potential looks small looking at ZOM's current market capitalization that is around $2.3 billion.
Article continues below advertisement
Even if the company manages to capture a major market share, I don't find the valuations attractive. Add the risk of failure of Truforma and the valuation looks even uglier. Overall, the stock's risk-reward ratio looks skewed towards the negative.
Netflix's Tiger King star Carole Baskin was paid by someone to endorse Zomedica, which led to a spike in the stock. Only $299 payment to Baskin was enough to move the stock! I would see any rise in the stock as an opportunity to exit and not add new positions.