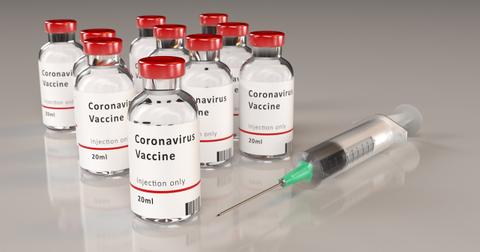 Stock Futures Rise on COVID-19 Vaccine Hopes, Tech Deals
By Ruchi Gupta

Updated
U.S. stock futures gained on Monday, Sept. 14 and pointed to gains on Wall Street. The advance came amid merger deals and COVID-19 vaccine reports, which seemed to boost investors' confidence. The rise in stock futures signals a positive start to the week. The Federal Reserve is expected to maintain low interest rates.
Why are stock futures rising?
The stock futures rose on Sept. 14 following reports that Oracle and TikTok have reached a deal. ByteDance secured an arrangement with Oracle. The deal would help ByteDance avoid an outright sale of TikTok operations in the U.S., which President Trump demanded. Instead of selling TikTok to address President Trump's national security concerns, ByteDance would surrender the control of TikTok's U.S. subscriber data to Oracle.
At the same time, ByteDance would sell a stake in TikTok to Oracle and other investors. Oracle stock rose 11 percent in pre-market trading on Sept. 14. In contrast, Microsoft and Walmart stocks tumbled on the same day. The Oracle-TikTok deal had a negative impact on Microsoft and Walmart's ambitions.
Over the weekend, Nvidia announced that it will acquire SoftBank's chip unit Arm Holdings, which also drove stock futures on Sept. 14. Nvidia agreed to purchase Arm Holdings for $40 billion. Softbank bought Arm Holdings for $31 billion. By selling Arm Holdings to Nvidia, SoftBank would book a profit of nearly $10 billion. The sale would help SoftBank raise the funds it needs to finance debt repayment and stock buyback. Based in the U.K., Arm Holdings' clients include Apple, Qualcomm, and Samsung. Nvidia stock popped up more than 6.3 percent in pre-market trading on Sept. 14.
Positive reports out of the healthcare sector also seemed to lift investors' confidence, which drove stock futures. Over the weekend, Gilead Sciences announced that it will acquire cancer drugmaker Immunomedics for about $21 billion. Gilead Sciences stock fell 1.54 percent in pre-market trading on Sept. 14.
On the COVID-19 front, the rise in stock futures came after AstraZeneca announced that it resumed the trial of its COVID-19 vaccine in the U.K. Pfizer CEO Albert Bourla said that the U.S. could start distributing a COVID-19 vaccine in 2020. Pfizer is one of the pharmaceutical companies working on COVID-19 vaccines. Finding a successful COVID-19 vaccine bodes well for epicenter stocks.
What are Dow futures now?
The blue-chip Dow futures contracts rose 0.92 percent or added more than 250 points compared to the fair value to 27,746 on Sept. 14.
How are the Nasdaq futures?
Futures contracts tied to the tech-heavy Nasdaq Composite gained 1.63 percent or added more than 180 points to 11,228 on Sept. 14.
What are the S&P futures now?
The stock futures contracts tied to the S&P 500 popped up 1.27 percent or added 42.20 points to 3,365.50 on Sept. 14.