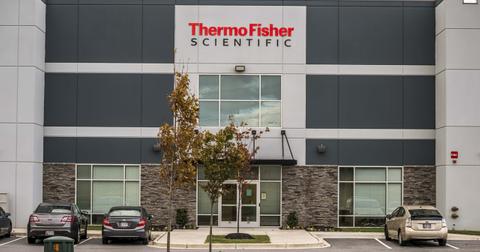 Is Thermo Fisher Stock Right for Your Portfolio?
By Ruchi Gupta

Updated
Thermo Fisher released its earnings report for the third quarter of 2020 before the opening bell on Wednesday, Oct. 21. What is in Thermo Fisher's earnings report and how does the stock look?
Article continues below advertisement
Highlights from Thermo Fisher's Q3 earnings
Thermo Fisher reported revenue of $8.5 billion, which rose 36 percent year-over-year and beat the consensus estimate at $7.6 billion. The COVID-19 pandemic has been a boon for Thermo Fisher. The company generated $2.0 billion in pandemic-related revenue in the third quarter. Thermo Fisher posted an EPS of $5.63, which jumped from $2.87 a year ago and beat the consensus estimate at $4.33. The company plans to host a conference call to discuss the results.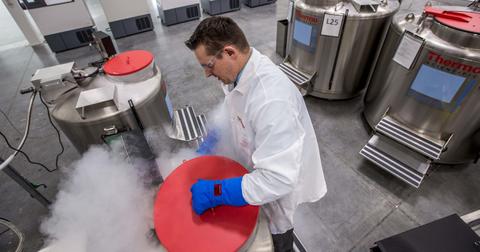 Article continues below advertisement
Thermo Fisher supplies scientific instruments and reagents and offers a range of services and solutions to the healthcare industry. The company's customers include governments, laboratories, and healthcare companies. Thermo Fisher has seen a spike in the demand for its supplies amid the COVID-19 pandemic.
What is Thermo Fisher's stock price today?
Thermo Fisher stock, which trades under the ticker symbol "TMO" on the NYSE, rose 1.66 percent to $473 in pre-market trading on Oct. 21. Investors liked the company's better-then-expected earnings results. The stock closed Oct. 20 at $465.26 after trading in the range of $461.17–$470.35. So far, the stock is up more than 40 percent in 2020.
Article continues below advertisement
Are analysts optimistic about Thermo Fisher stock?
The most bullish analyst on Wall Street sees 12 percent upside potential in Thermo Fisher stock from the current level to $520 in 12 months. In contrast, the most bearish analyst predicts nearly 10 percent downside for the stock.
Is Thermo Fisher stock right for your portfolio? The stock is attractive for investors looking to play the COVID-19 pandemic and individuals seeking long-term exposure to the healthcare sector. Increasing heath awareness and the aging global population will likely drive the demand for healthcare services and continue to fuel the demand for Thermo Fisher supplies. 
Article continues below advertisement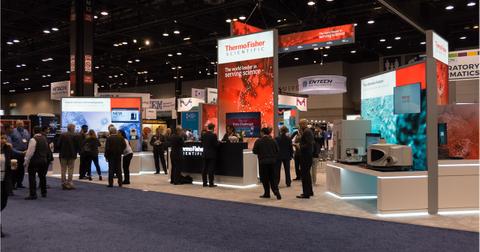 Thermo Fisher's dividend dates in 2020
Investors seeking stocks with dividends in the healthcare sector may find Thermo Fisher appealing. The company has a long dividend history. Also, Thermo Fisher has a track record of raising its dividend every year. 
Thermo Fisher has declared a dividend three times in 2020. Its latest quarterly cash dividend payout was $0.22 per share, which it distributed to shareholders on Oct. 15. Previously, Thermo Fisher paid a quarterly cash dividend of $0.22 per share on July 15 and a dividend of $0.22 per share on April 16. The quarterly dividends that Thermo Fisher has paid in 2020 improved from the quarterly dividend of $0.19 per share it paid in 2019 and the quarterly dividend of $0.17 per share it paid in 2018.