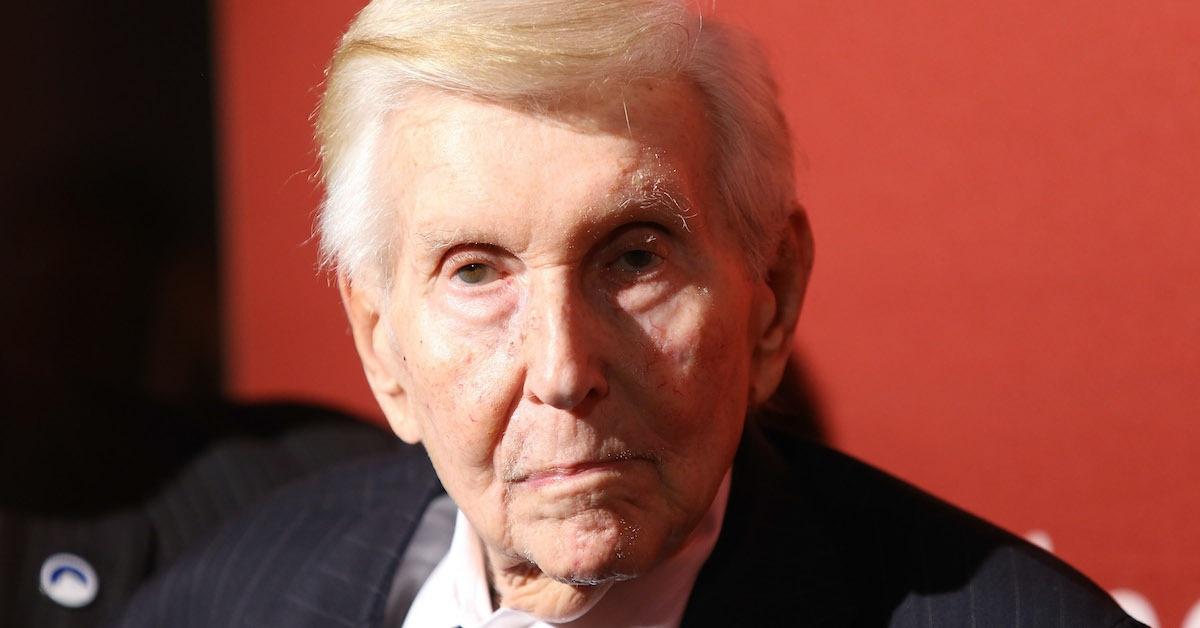 Sumner Redstone's Death Shifts ViacomCBS Control to Daughter
Sumner Redstone, the media mogul behind ViacomCBS, died on Tuesday. He was 97 years old. National Amusements, the Redstone family holding company, announced the tycoon's death on Wednesday without disclosing the cause. However, Redstone has faced health issues for a long time. His daughter, Shari Redstone has been running National Amusements.
Article continues below advertisement
Who is Sumner Redstone?
Redstone transformed family drive-in theater business National Amusements into a media empire.
Before running National Amusements, Redstone worked with the U.S. federal government in various roles after he graduated from Harvard. He served as an aide to Attorney General Tom Clark and as a Court of Appeals law secretary. Redstone was an Army intelligence officer during World War II.
Article continues below advertisement
National Amusements' transformation from a drive-in movie chain to a media giant got its major start by acquiring Viacom in 1986. Redstone made a series of media acquisitions, including the $37 billion purchase CBS Corporation in 1999.
Article continues below advertisement
In 2006, Viacom and CBS Corporation split. Each of them became an independent publicly-traded company. They reunited in 2019 and formed ViacomCBS.
In an interview with CNBC in 2012, Redstone said that acquiring Viacom was his greatest business achievement. He explained that CBS Corporation, Paramount Pictures, and many other businesses would not have existed without Viacom.
Article continues below advertisement
Walmart has also got into the theater business. However, Walmart plans to run a free movie chain for a limited period.
Who owns ViacomCBS now?
Redstone controlled 80 percent of voting shares in National Amusements. His daughter Shari controlled the remaining 20 percent. National Amusements controls 79.4 percent of the voting shares in ViacomCBS. Shari Redstone is the chairwoman of ViacomCBS.
Redstone's death shifts the control of National Amusements and its holding businesses, like ViacomCBS, to Shari.
Article continues below advertisement
ViacomCBS runs cable and broadcast television networks, film production business Paramount Pictures, and publishing brand Simon & Schuster. The company has earmarked Simon & Schuster for sale as it seeks to raise more cash and cut costs.
ViacomCBS reported a 12 percent drop in its revenue to $6.3 billion in the second quarter. The profit declined 51 percent to $478 million in the quarter. Weak advertising sales weighed on the results. The company reported an 8 percent drop in publishing sales and a 27 percent decline in advertising revenue. Brands have responded to the COVID-19 pandemic by slashing their marketing budgets, which even hurt companies like Google.
Article continues below advertisement
What is ViacomCBS stock price today?
ViacomCBS stock closed at $26.24 on Wednesday after falling more than 1 percent, which signaled a negative market reaction to the news of Redstone's death. However, the stock rose nearly 2 percent during pre-market trading today.
ViacomCBS's stock price has dropped 37.5 percent since the beginning of the year. However, the stock has gained 56 percent over the past three months. ViacomCBS stock has pulled up 160 percent from its 52-week low of $10. The stock continues to trade more than 47 percent below its 52-week high of $50.
The most bullish analyst on Wall Street has a target price of $36 on ViacomCBS stock, which implies a 37 percent upside potential from the current level. The most bearish analyst has a target price of $12 on the stock, which implies a 54 percent downside potential.
Finally, ViacomCBS stock sports consensus hold recommendation.