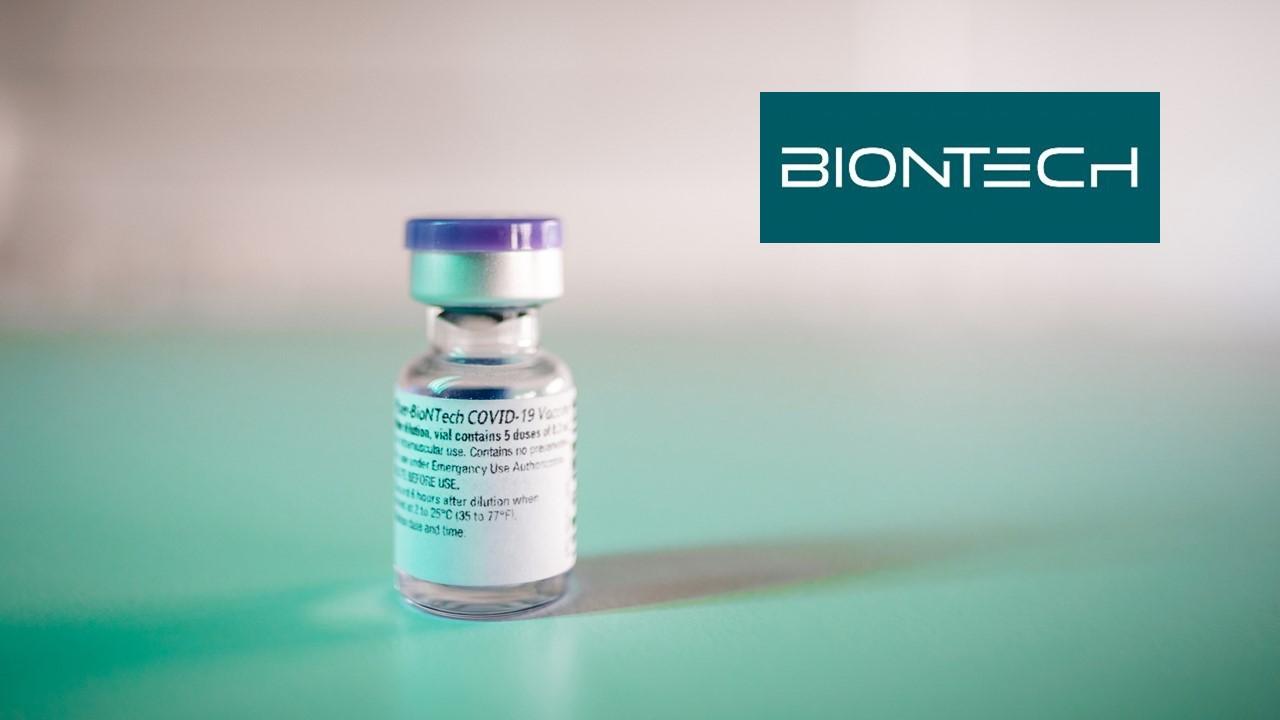 BioNTech Stock Forecast: Huge Potential at a Discount Price
By Ruchi Gupta

Mar. 24 2021, Published 12:08 p.m. ET
BioNTech (BNTX) is receiving plenty of investor attention. All of the attention is due to the stock's recent pullback from its peaks, the coronavirus vaccine, and Pfizer (PFE) leveraging insights from its work with BioNTech in the COVID-19 vaccine program to develop a drug for the virus. Should you buy BNTX stock now?
Article continues below advertisement
When a stock retreats from its peak like BioNTech, it shows up on bargain hunters' radar. Investors who missed the previous rally in BNTX stock will view a pullback as an opening to enter at a discount price. Investors who are already in will seize the moment to build a larger stake. 
Article continues below advertisement
How BioNTech and Pfizer are related
BioNTech and Pfizer worked jointly to develop a coronavirus vaccine that became one of the first vaccines to enter the market. In the Pfizer pact, BioNTech could be paid as much as $748 million for its contribution to the vaccine project. It has already received $185 million in an upfront payment.
Pfizer learned valuable insight in its vaccine collaboration with BioNTech. It will apply the insights in its work to develop a treatment for COVID-19. Pfizer has already started trials for its COVID-19 pill, which promises to expand its revenue opportunity amid the COVID-19 pandemic.
Article continues below advertisement
BioNTech vaccine news and impact on the stock
Hong Kong has decided to suspend the distribution of the BioNTech vaccine after it uncovered a flaw in the packaging. Macao, another special Chinese region, has taken a similar step regarding the BioNTech vaccine. The steps Hong Kong and Macao have taken are precautionary measures and don't mean that they are questioning the safety of the BioNTech vaccine. 
The company and its Chinese partner Fosun will investigate the cause of the packaging defect. Although Fosun stock fell about 5 percent in Hong Kong trading on March 24 on the vaccine suspension news, BNTX stock was rising in early trading.
Article continues below advertisement
The BioNTech vaccine is competing for business against Sinovac and AstraZeneca in the Hong Kong market. Therefore, the suspension could hurt its sales if the issue isn't resolved quickly.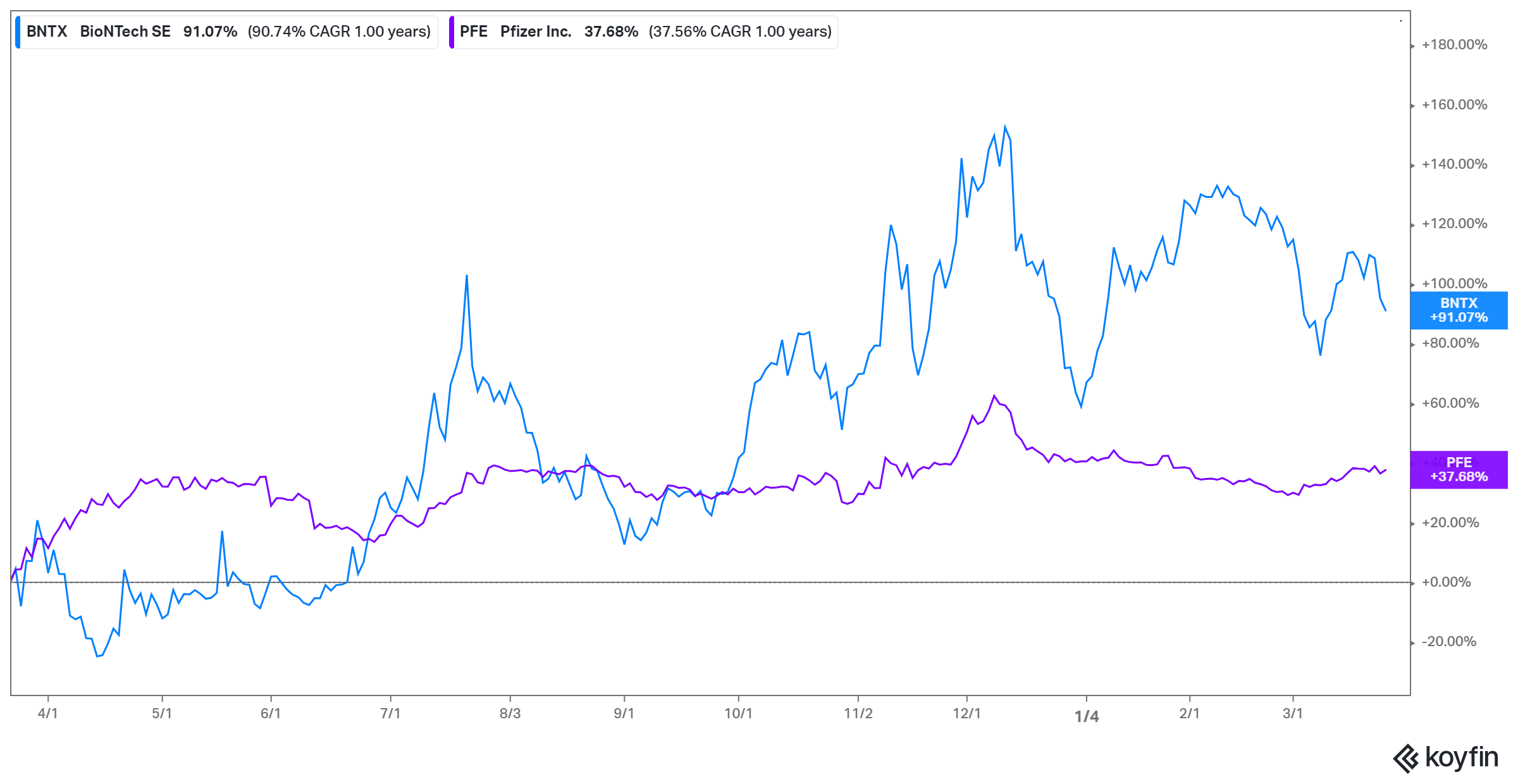 Article continues below advertisement
BioNTech versus Pfizer stock
The successful collaboration on the COVID-19 vaccine has stirred investor interest in comparing BioNTech and Pfizer stocks. With a market cap of nearly $200 billion, Pfizer is a much bigger company than BioNTech whose market cap is around $25 billion. 
However, BioNTech shares cost more. BNTX stock trades for about $100 apiece, while Pfizer stock costs about $35. BNTX stock has gained 23 percent YTD and nearly doubled in the past 12 months. PFE stock is down 4 percent YTD, but sports a gain of 30 percent in the past 12 months.
Article continues below advertisement
Pfizer stock pays a dividend and currently offers a dividend yield of more than 4.4 percent. Right now, BioNTech doesn't pay a dividend. PFE stock is more popular with big investors than BioNTech stock. More than 67 percent of Pfizer shares are owned by institutional investors, while institutional ownership in BNTX stock is only 10 percent.
BioNTech's (BNTX) stock forecast
Since BioNTech stock has soared due to the COVID-19 vaccine success, investors want to know whether it could keep rising. The consensus target price for BNTX stock is $116, which implies a 15 percent upside potential from the current level. The high target price of $126 implies a 26 percent upside potential.
Article continues below advertisement
Why BioNTech (BNTX) stock appeals to investors.
You might like BNTX stock for several reasons. First, a discount entry opportunity has opened in the stock after the recent pullback. Currently, BioNTech shares trade about 24 percent below their recent peak, which bargain hunters might find attractive.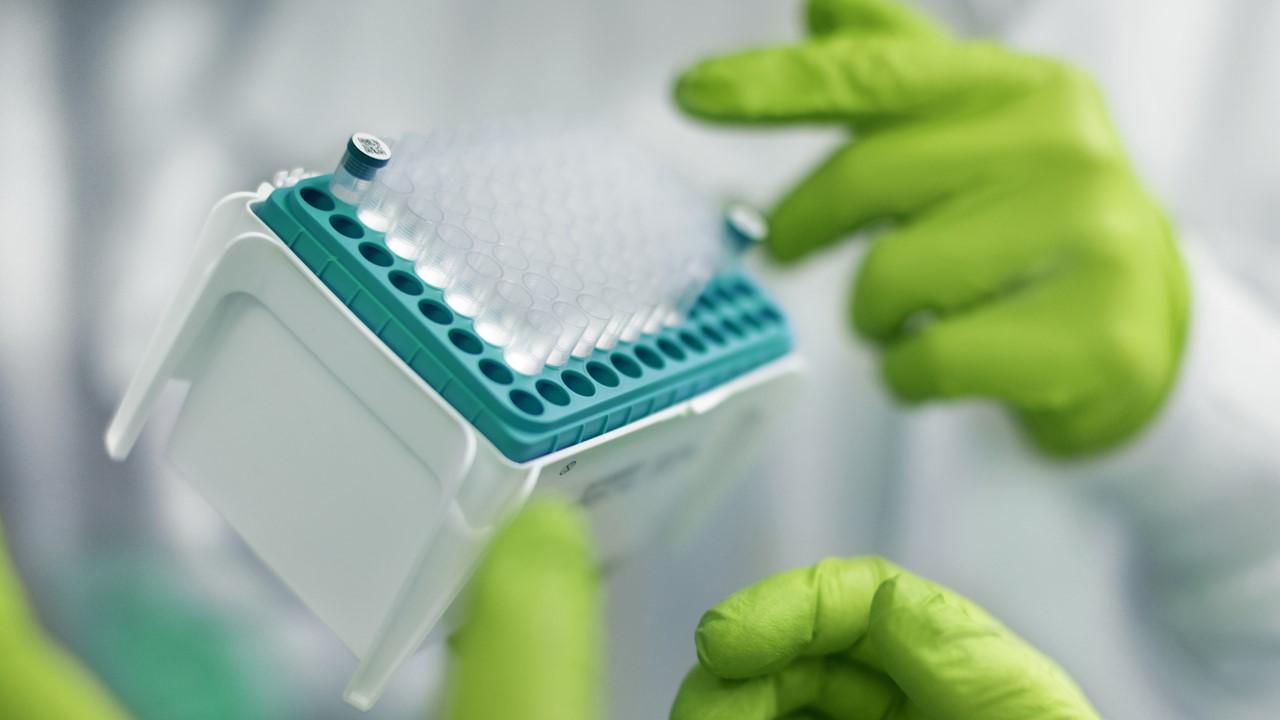 Article continues below advertisement
You might also like BNTX stock because of the generally bullish outlook for the drug industry. The demand for drugs should keep rising as disease screening expands and more people become aware of their health conditions. While the coronavirus vaccine and Pfizer collaboration have put BioNTech in the headlines lately, the company has a bigger business. For example, the company is also focused on cancer treatment and the revenue opportunity is enormous.
As the Pfizer pact has demonstrated, partnerships can accelerate drug development and expand commercial opportunities quickly. BioNTech has forged strategic partnerships with some of the biggest names in the pharmaceutical world like Sanofi, Bayer, and Roche.
Article continues below advertisement
How to buy BioNTech (BNTX) stock.
BioNTech stock is listed on Nasdaq, which makes it accessible to public investors. You'll need a brokerage account to be able to buy and sell BNTX stock. You can open the account with Robinhood, Fidelity, Schwab, Webull, or any other broker that supports Nasdaq trading. 
Once you sent up the account, you will need to fund it by making a deposit through a bank transfer or the method your broker supports. From there you can decide the number of BioNTech shares to buy and place your order. For investors with little money, brokers like Robinhood, SoFi, and CashApp allow you to purchase fractional shares with as little as $1.