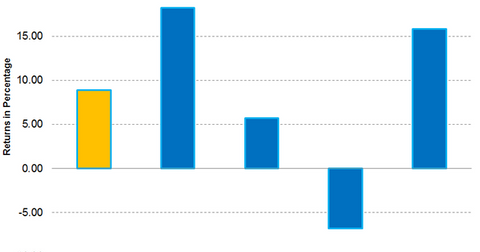 Ashland's Accelerated Share Repurchase Program
By Peter Neil

Updated
Ashland's share repurchase program
In a press release on May 7, Ashland (ASH) announced a $200 million accelerated share repurchase program. Ashland entered into an agreement with Goldman Sachs to repurchase $200 million of its common stock. In May 2018, Ashland's board approved a $1 billion share repurchase program. The agreement is scheduled to expire no later than August. Under certain circumstances, the agreement could be partially or completely terminated.
Article continues below advertisement
According to the agreement, Goldman Sachs (GS) will deliver 2.2 million shares initially. Depending on the price per share agreement, Goldman Sachs might be required to deliver additional shares to Ashland. Under certain circumstances, Ashland might need to return the shares or return the cash back at its election to Goldman Sachs.
According to Ashland's latest quarterly earnings, the company had 64 million outstanding shares. Assuming that everything goes according to the agreement, Ashland could have ~61.8 million shares. With the number of outstanding shares coming down, Ashland's EPS could get a boost.
Ashland's stock update
On the day the news was announced, Ashland rose ~0.94%. On a year-to-date basis, the stock has gained 8.9%. Celanese (CE) and Eastman Chemical (EMN) have gained 18.2% and 5.7%, respectively, while Westlake Chemical (WLK) has fallen 6.8%. Ashland is underperforming S&P 500 (SPY), which has gained 15.8% during the same period.