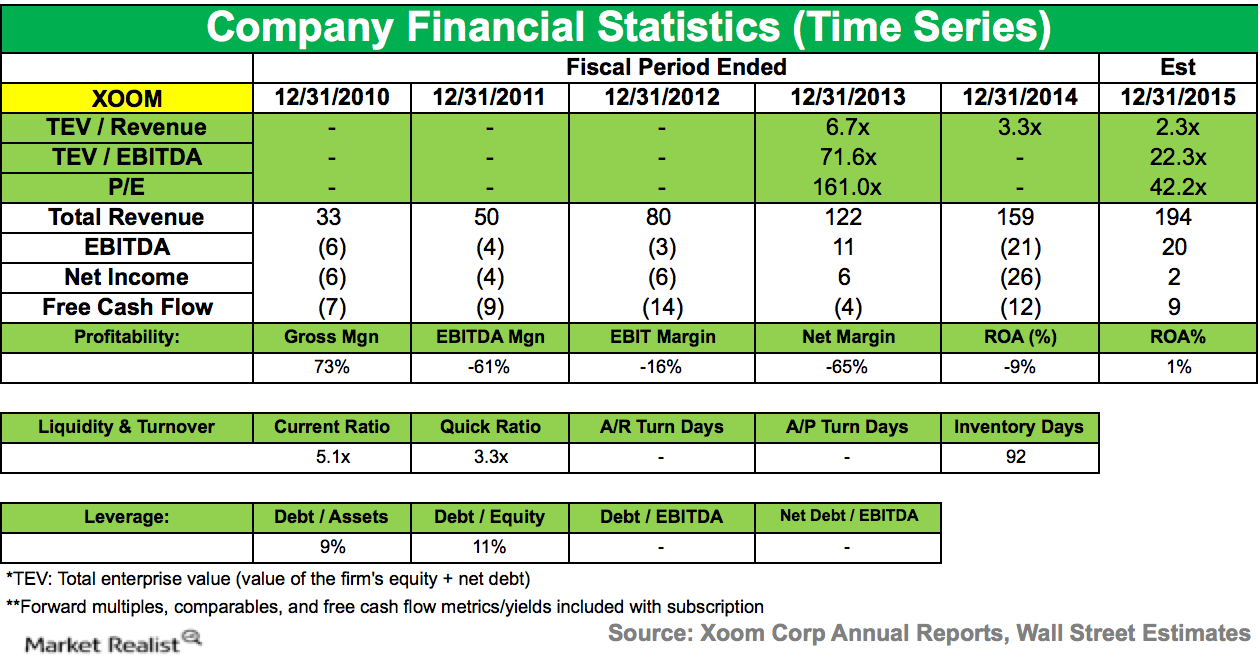 Eminence Capital raises its position in Xoom
Eminence Capital and Xoom Corp
Eminence Capital increased its position in Xoom (XOOM). A 13G filing in December noted that the fund owns 2,449,508 shares of the company. This is up from the 877,377 shares that the fund reported in its 3Q14 portfolio. The filing noted that the fund owns a passive 6.4% stake in the company.
Article continues below advertisement
Brief on Xoom
Xoom is a digital consumer-to-consumer international money transfer company with customers in 30 countries. From January 1, 2009, to September 30, 2014, customers used Xoom to transfer $17 billion, including $5.1 billion transferred in the first nine months of 2014. The company notes that its "technology enables easy-to-use online and mobile sender interfaces, effective risk management, and seamless integration with its disbursement partners' systems."
Repeat customers contributed more than 90% to Xoom's total revenue for first nine months of 2014. Plus, 60% of Xoom's customers sent money to India and the Philippines in 2013.
Theft of corporate cash, Xoom CFO resigns
In its filing on January 5, 2015, Xoom reported criminal fraud that involved someone impersonating an employee who transferred $30.8 million in corporate cash to overseas accounts. The company expects a one-time charge of $30.8 million in 4Q14. However, it does not expect the matter to affect its business.
Xoom also announced the departure of its newly joined CFO, Matt Hibbard, who joined as CFO on December 1, 2014. Xoom's previous CFO Ryno Blignaut filled the position after Hibbard's departure. XOOM shares fell 14% to $14.50 after this announcement.
Article continues below advertisement
4Q14 results beat estimates
Xoom exceeded both revenue and earnings before interest, tax, depreciation, and amortization (EBITDA) expectations. For the fourth quarter, Xoom reported revenue of $43.9 million, up 37% year-over-year (YoY). Adjusted EBITDA was $6.5 million, compared to $3.3 million in 4Q13. The increase was primarily driven by a superior product offering and revenues from India, which grew 40% YoY.
Increased mobile adoption of Xoom's mobile products led Latin America revenue, which rose 48% YoY. Gross sending volume increased 29% YoY. Generally accepted accounting principles (or GAAP) net loss was $28.5 million, or $0.74 per diluted share, compared to net income of $1.2 million, or $0.03 per diluted share in 4Q13. It included $30.8 million business email compromise (or BEC) fraud loss.
For the full year 2014, revenue was up 30% to $159.1 million. The GAAP net loss for 2014 was $26.3 million, or $0.69 per diluted share, compared to $6.3 million, or $0.17 for 2013.
Outlook for 1Q15 and full year 2015
Revenue for 1Q15 is expected to be between $42 million–$44 million, with a 20% increase YoY. The GAAP net loss per share is expected to be between $0.11–$0.05. For the full year 2015, revenue is expected to be between $190 million–$195 million. Its GAAP diluted net income per share should range from of a loss of $0.05 to a gain of $0.07.
Investors can gain exposure to XOOM by investing in the iShares Russell 3000 ETF (IWV).
Eminence Capital's 13G positions
The fund initiated position in Darling Ingredients (DAR). It increased positions in Men's Wearhouse (MW) and XOOM Corp (XOOM). It reduced its positions in TIBCO Software (TIBX) and Fidelity National Financial (FNF).
In the next part of this series, we'll discuss Eminence Capital's position in TIBCO Software.