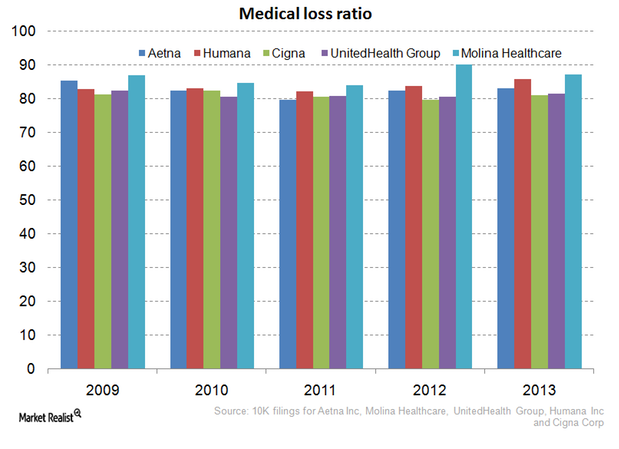 Why the Affordable Care Act hurts the managed care industry
Loss provision
The Affordable Care Act requires the health insurance industry (XLV) to spend at least 80% of premiums on health expenses for small group plans with 50 or fewer people and 85% for large group plans. If this condition isn't met, the insurance company has to pay rebates to enrollees.
The medical loss ratio (or MLR) of health insurance companies is calculated as the ratio of the total money spent in healthcare claims and quality improvement expenses to premiums adjusted for tax and regulatory expenses. The ratio is an indicator of a health insurance company's profitability. A smaller medical loss ratio indicates a higher profit margin.
Article continues below advertisement
The above graph shows the medical loss ratios for Aetna (AET), Humana (HUM), Cigna (CI), UnitedHealth Group, and Molina Healthcare (MOH). Cigna and United Health Group have medical loss ratios lower than their peers. This finding suggests that the companies have a better mix of small- and large-group healthcare plans and operations focused in states where the federal government has reduced the required MLR ratio for the insurance industry's stability.
Penalty
According to the Center for Medicare and Medicaid Services (or CMS), people who don't buy health insurance will be penalized, amounting to $95 or 1.0% of their income from 2014. This penalty will increase to $695 or 2.5% of their income in 2016. This means more people are buying catastrophic plans, which have lower premiums and higher deductibles.
A shift to catastrophic plans is detrimental to managed care organizations in the long term. Low-income patients, who are unable to access healthcare because of the high deductible delay required treatments, leading to higher expenses in the long term.