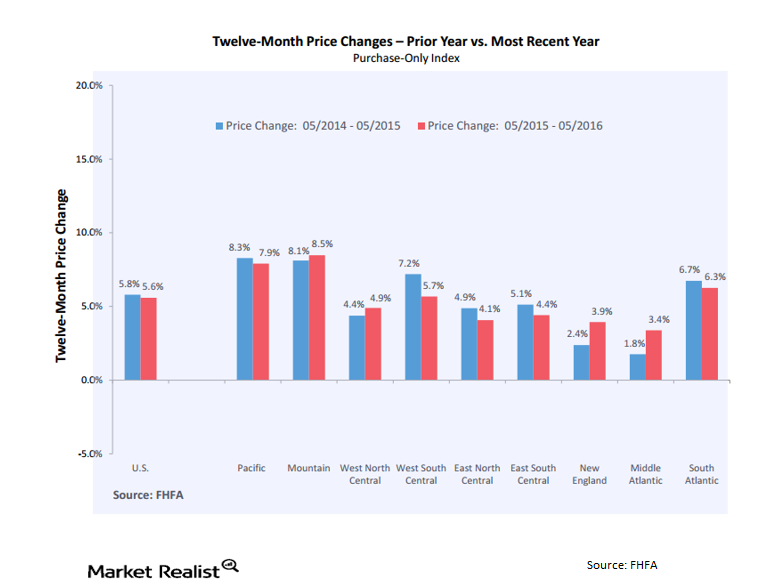 Real Estate Market Hot in the West, Cold in the Northeast
All real estate is local
The real estate recovery has been uneven with some parts of the country outperforming others. Home prices in the Pacific and Mountain states have outperformed prices in the rest of the country over the past two years. Meanwhile, the Mid-Atlantic and New England states appear to have underperformed.
We've seen a lot of foreign buying of residential real estate, especially on the West Coast and in the Mountain states. Many Chinese investors are looking to diversify their exposure to US dollar-denominated assets. This trend helped bid up property values in these locations.
Article continues below advertisement
The West is hot while the Northeast is cold
The FHFA (Federal Housing Finance Agency) House Price Index breaks down home price appreciation by region and state. From May 2015 to May 2016, the Mountain states took the lead at 8.5%, followed by the Pacific states with a gain of 7.9% and the South Atlantic states with a gain of 6.3%. The Mid-Atlantic brought up the rear with a gain of only 3.4%.
Geographic exposure
Real estate companies such as Colony Capital (CLNY) and NorthStar Realty Finance (NRF) invest in non-guaranteed mortgage-backed securities. These companies take credit risk, which separates them from agency REITs (real estate investment trusts) like American Capital Agency (AGNC).
If you're interested in trading the real estate sector through an ETF, you can look at the iShares Mortgage Real Estate Capped ETF (REM). Separately, if you wish to make direct interest rate bets, you can consider the iShares 20+ Year Treasury Bond ETF (TLT).
While being underwater doesn't necessarily mean a borrower will stop paying—in fact, the vast majority of underwater homeowners are current on their mortgages—it does mean that the severities, or losses, rise if the lender has to foreclose.
While examining these companies, you should determine what sort of geographical concentration they have. Diversification can certainly help.