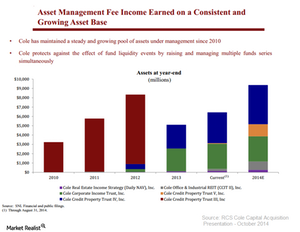 ARCP's Cole Capital acquisition ended due to accounting issue
RCS Capital deal to acquire Cole Capital terminated in October
As previous articles discussed, American Realty Capital Properties (ARCP) is a self-managed commercial REIT that hedge fund Corvex Management has taken an activist stake in. Corvex said its discussions with the ARCP board include "business strategy and simplification" as well as "improving corporate governance."
We noted previously that in November, RCS Capital (RCAP) terminated a $700 million deal to acquire Cole Capital from ARCP. The deal had been announced in October prior to ARCP's disclosure of accounting errors. ARCP sued RCS over the termination, but settled the litigation in December for $60 million.
Article continues below advertisement
RCS Capital's market value impacted by ARCP accounting scandal
While both ARCP and RCS Capital are separate entities, with non-overlapping managements, non-traded REIT magnate Nicholas Schorsch chaired both companies. RCAP's shares fell earlier in November on reports that some of its broker-dealers such as LPL Financial Holdings (LPLA), Securities America, and other brokerage firms suspended sales of non-traded REITs and other products that RCS and ARCP sponsored.
RCAP issued a statement stressing that both entities were separate and that it "does not distribute any of ARCP's (Cole Capital's) non-traded REIT securities through its wholesale distribution network." It further said that "broker-dealers that have temporarily suspended sales are likely to reinstate the selling agreements."
Investment bank Robert A. Stanger said that in November, sales of Cole Capital non-traded REITs plunged 81% from October. ARCP's real estate products raised $154.3 million, a 58% drop from $380.7 million in October.
Article continues below advertisement
Schorsch steps down from ARCP board to restore investor confidence
Due to investor concerns over Schorsch chairing both ARCP and RCS, Schorsch stepped down last month as executive chairman of ARCP. He also stepped down from the ARCP board and the boards of the non-traded REITs that Cole Capital manages. In addition, he resigned as chairman and chief executive of New York REIT and boards of 11 non-traded REITs and investment products that his firm, American Reality Capital, sponsors.
Former ARCP chief accounting officer Lisa McAlister filed a lawsuit against Schorsch, alleging that both her and CFO Brian Block were asked to manipulate financial results. A December 19 article in the Wall Street Journal by Robbie Whelan said McAlister claimed that she had informed Schorsch and David Kay about the accounting irregularities, but was ignored.

You can gain exposure to the broader REIT sector by investing in the iShares Dow Jones US Real Estate ETF (IYR) and the Vanguard REIT Index ETF (VNQ). IYR and VNQ's holdings include ARCP and its better performing triple net REIT peers, National Retail Properties (NNN), Realty Income (O), and W.P. Carey (WPC).