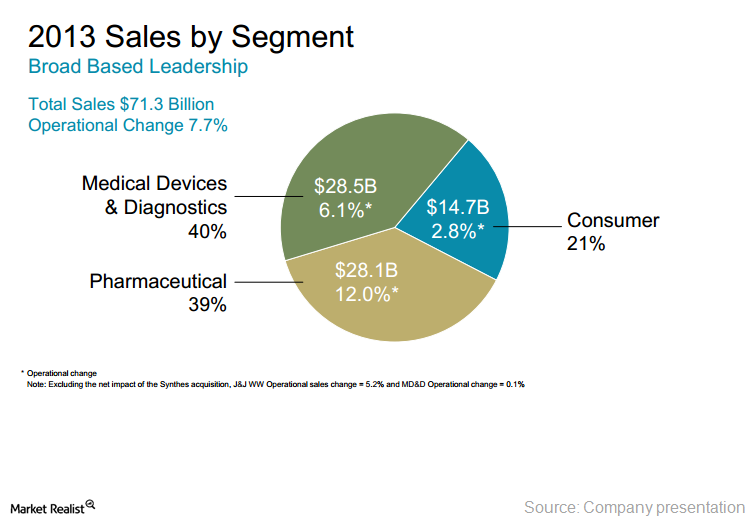 Why George Soros sold his fund's position in Johnson & Johnson
Soros and Johnson & Johnson
Soros sold its 1.20% position in Johnson & Johnson (JNJ) last quarter.
Johnson & Johnson's reported 37% increase in adjusted net earnings in 4Q was mainly driven by its pharmaceutical segment, which posted an 11.8% jump in revenue, to $7.3 billion. U.S. pharmaceutical sales were up 17.9%, to $3.55 billion, while international revenue rose 6.6%, to $3.75 billion. Growth in prescription drug sales was supported by revenues from drugs Remicade and Simponi, which increased 13.5% and 40.3%, respectively, to $1.7 billion and $254 million. These are used to treat a number of immune-mediated inflammatory diseases. Sales were also driven by new products, including Zytiga (with the revenue from the prostate cancer therapy increasing 87.5%, to $495 million), Xarelto (an oral anticoagulant), Edurant (for HIV), and Invokana (for diabetes). The company also gained FDA approval for the oral hepatitis C therapy Olysio.
Article continues below advertisement
JNJ's Consumer division grew 2.8%, but its Medical Device & Diagnostics division continued to struggle. Sales of medical devices and diagnostics declined 1%, to $7.3 billion, due to a fall in revenue from diabetes care and diagnostic products. For the full year, medical devices and diagnostics sales climbed 3.9% year-over-year, to $28.5 billion, driven by the 2012 acquisition of Synthes and joint reconstruction products in the orthopedics segment. The company received a binding offer from The Carlyle Group to acquire its Ortho-Clinical Diagnostics business for $4.15 billion last month.
Johnson & Johnson took an after-tax charge of $42 million relating to a number of factors, including litigation accrual and program costs associated with the DePuy ASR recall. In November last year, Johnson & Johnson announced a settlement agreement under which it will pay approximately $2.5 billion in compensation for injuries from its 2010 recall of DePuy ASR all-metal artificial hip implants. News reports indicate that the potential total settlement is expected to reach over $4 billion.
The company said the impact of the yen's devaluation will be a significant headwind in 2014 and estimated an EPS of $5.75 and $5.85 per share, or a growth rate of 4% to 6%. Shares slipped, as analysts considered the guidance modest.