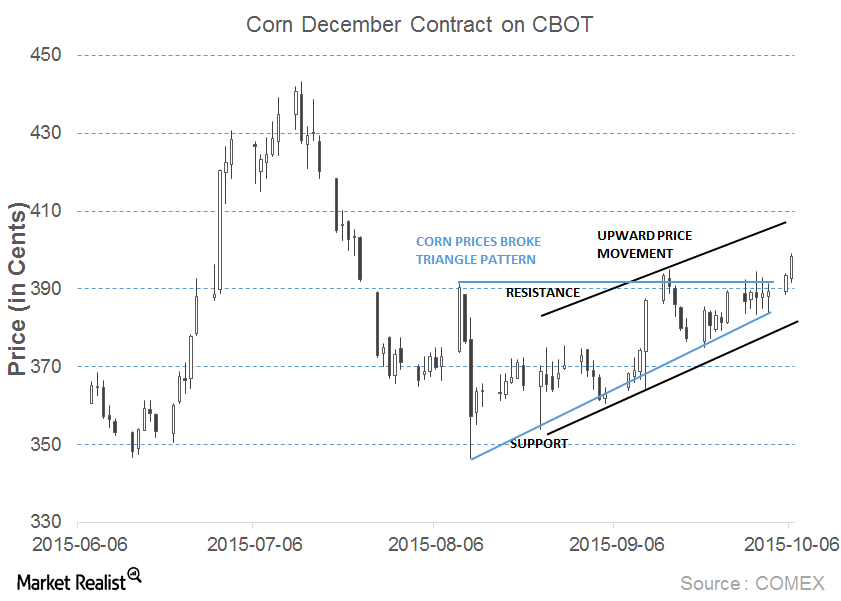 Will Corn Prices Be Range-Bound before WASDE Report Release?
Prices broke triangle pattern
On October 6, 2015, CBOT (Chicago Board of Trade) December expiry of corn futures contracts rose, breaking the resistance level of the triangle pattern at $3.95 per bushel. Corn futures prices rose and closed at $3.98 per bushel on the day. In the absence of any extraordinary weather expectations, corn prices are expected to trade within the range of $3.64 to $3.95 per bushel.
With this increase in corn prices, expectations have strengthened for corn prices to rise even more on account of the positive expectations in the World Agriculture Demand and Supply Estimation report. The rise in the volume on October 6 along with a 0.63% decline in open interest suggests that speculators are adjusting their positions.
Article continues below advertisement
Support and resistance
Corn prices are expected to progress in the suggested price range with support and resistance levels at 380 and 410 cents, respectively. The price movements on the chart show less risk for the support and resistance levels, as the majority of traders have already adjusted their position.
Weather changes and crop report rebalancing continued on October 6, as volumes increased by 73.03% on October 5. The rebalancing aimed at reducing the event risk for the World Agriculture Demand and Supply Estimation report releasing on October 9, 2015. Analyst consensus expects the market to show a positive demand outlook on fuel usage in some emerging market economies.
Impact on business
The stock prices of food companies Tyson Foods (TSN), CHS (CHSCP), ConAgra Foods (CAG), Archer Daniels Midland (ADM), and Bunge (BG) advanced slightly on the fifth trading day of their price rally. Plus, the PowerShares DB Agriculture ETF (DBA), which has exposure to these stocks, rose by 1.28% on October 6.