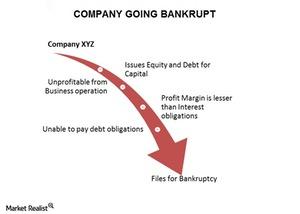 What Is Bankruptcy Investing?
Bankruptcy investment
Marc Lasry, the founder chairman of Avenue Capital Group, was the main guest in episode 15 of Wall Street Week, hosted by Anthony Scaramucci and Gary Kaminsky on August 2, 2015. In that episode, Lasry discussed his early life and the start of his career in the bankruptcy branch of the Angel & Frankellaw firm. What happens when a company starts posting losses? What stage does a company enter when it defaults in making payments to its stakeholders?
In simple terms, a bankrupt company is a firm that has failed to meet its debt obligations. While this news can be dreadful for the enterprise, it can open up various opportunities for investors.
Article continues below advertisement
A company can go bankrupt due to many reasons such as rapid changes in technology, change in government policies, bad management, new product failure, and stiff competition. There are also countless other reasons that can lead a company to go bankrupt. Kodak (KODK), General Motors (GM), Ally Financial (ALLY), and Six Flags (SIX) are some of the prime examples of companies that have gone through the bankruptcy phase. KODK is part of the iShares Russell 2000 ETF (IWM), while GM is a major part of the Consumer Discretionary Select SPDR Fund (XLY). There are many other such companies that have gone bankrupt. Some made it through bankruptcy, whereas others didn't. But, is it possible to make money from companies that are about to go or are bankrupt?
Types of bankruptcy
Informed investors can profit from businesses that have filed for bankruptcy. Before starting Avenue Capital Groups, Marc Lasry made money from bankruptcy investing. Bankruptcy investing is only possible for companies that have filed for Chapter 11 bankruptcy. The other type of bankruptcy is chapter seven bankruptcy, which involves the liquidation of assets and thus the end of that business.
A reversal is possible
A chapter 11 bankruptcy filing gives a company a second chance to revive its business through a thorough assessment of its business plan. Management tries to identify the potholes in the business model and initiates possible corrective action. If all goes according to the plan, a company can generate profits that exceed its debt coupon payment, and save itself from bankruptcy.
In the coming parts of the series, we will explore the possibility of making profits from bankruptcy investing.