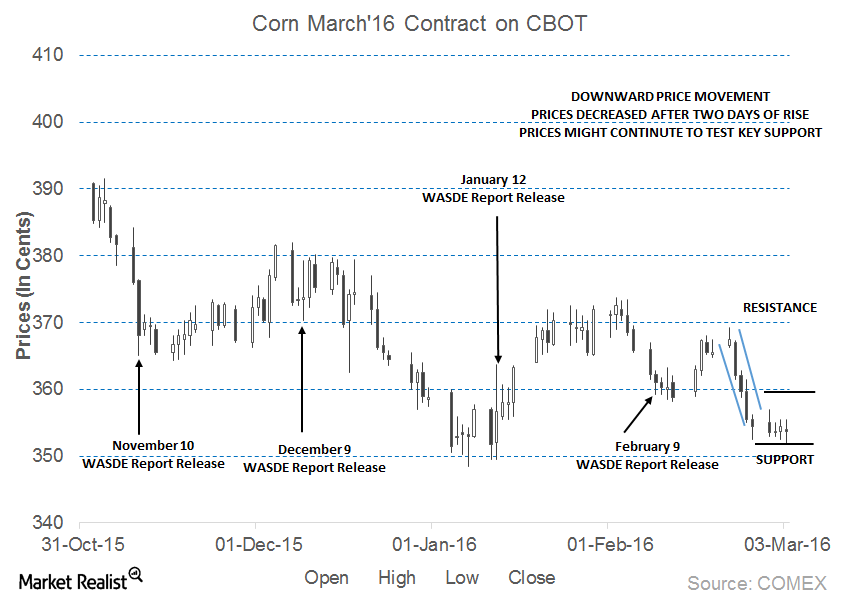 Corn Prices Could Continue to Test Crucial Support
Trend in corn
March 2016 corn futures prices were trading near the support level of 355 cents per bushel on March 3, 2016. Prices declined after two days of rising by 0.28% during the period. A downward price movement on March 3 indicated a continuation of the downward channel.
However, analysts believe that the price could be restricted in the range-bound movement before the World Agricultural Supply and Demand Estimates (or WASDE) report is released next week. The previous day, open interests fell by 11.8%, and volume increased by 82.7% on March 3, 2016. Prices continued to trade below the 20-day moving average.
The above graph indicates that prices might remain in the range of 350–360 cents per bushel in the near term.
Article continues below advertisement
Price drivers
The pace of the South American harvest is anticipated to increase with favorable weather conditions. It increased competition for US corn and dragged corn prices down on the day.
The USDA's (U.S. Department of Agriculture) weekly corn export sales were stronger for the third consecutive week and improved sentiments for export demands. It supported corn futures prices for the near term. The US dollar depreciated by 0.55% and supported export sentiments for the near term.
Stocks review
The decline in corn prices would negatively impact the shares of corn-producing and corn-trading businesses. On March 3, 2016, CHS (CHSCP) shares fell by 0.13%, continuing the downward movement on the second trading day.
In contrast, Ingredion (INGR) and Bunge (BG) stocks rose for the third consecutive trading day by 4.9% and 1.4%, respectively, on March 3, 2016. Share values of Archer-Daniel Midlands (ADM) rose for the seventh consecutive trading day by 2.8%. During the period, it has improved by 9%. The PowerShares DB Agriculture Fund (DBA) rose for the second straight trading day by 0.75% on March 3, 2016, with the increase in corn prices.
In the next part, we'll look at Brazil's dry weather forecast and how it could affect soybeans.