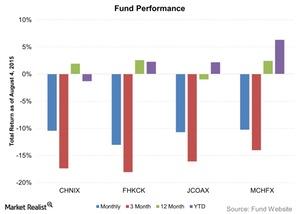 How Have China-Focused Mutual Funds Performed?
Mutual funds under review
In the previous article, we outlined the impact of the recent stock market crash and the slowing down of key economic indicators on four China-focused mutual funds.
In this article, we will look at the performance of the Clough China Fund Class I (CHNIX), the Fidelity China Region Fund Class C (FHKCX), the John Hancock Greater China Opportunities Fund Class A (JCOAX), and the Matthews China Investor Class (MCHFX).
Article continues below advertisement
Performance
For fund performance, we'll use the total return measure. Total return includes changes in the NAV (net asset value), capital gains distributions, and the reinvestment of those distributions. The impact of the recent stock market turmoil is clearly visible on the one-month and three-month returns of the funds.
In the one-month period ended August 4, 2015, each of the four funds posted negative returns due to the stock market crash that spread from the end of June until July. The FHKCX posted the worst returns of -13.0%. The other three funds recorded more or less similar returns at -10.4%, -10.7%, and -10.3%, respectively.
The trailing one-month return of some of the popular Chinese American Depository Receipts (or ADRs) turned negative. Baozun (BZUN), Youku Tudou (YOKU), and 58.com (WUBA) produced negative returns of -17.9%, -17.8%, and -8.9%, respectively.
For the three-month period ended August 4, 2015, the FHKCX was down by 18.1%, the most out of the four funds. The returns of the other three funds were in the range of -14.0% to -17.4%.
Over the past year, there was close competition between FHKCX and MCHFX for the top position. However, the FHKCX won with 2.6%, and the MCHFX stood second with 2.4% returns. The CHNIX returns came in at 1.9%, while the JCOAX posted negative returns of -1.0%.
In the next article, we'll look at the risk-adjusted return performance of these funds.