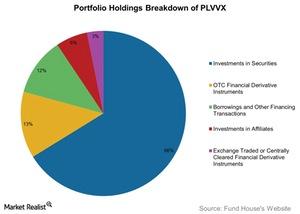 A Detailed Holdings Analysis of PLVVX
Long and short positions
The PIMCO RAE Low Volatility Plus Emerging Fund Class A (PLVVX) holds fixed income securities in both long and short positions. In addition, the fund also holds derivative forward, future, and swap agreements on government securities, indexes, and currencies.
As of December 11, 2015, the fund manages assets worth $3.3 billion with an expense ratio of 1.4%. The top ten holdings of PLVVX represent one-third of its total portfolio. The graph below gives a breakdown of PLVVX's holdings.
Article continues below advertisement
Portfolio breakdown
PLVVX's holdings include a variety of investments.
PLVVX holds fixed income securities of various corporations such as Bank of America (BAC), Ally Financial (ALLY), subsidiaries of General Motors (GM), and Citigroup (C).
Many mortgage-backed and asset-backed securities make up 66.2% of PLVVX's portfolio.
PLVVX's portfolio also consists of over-the-counter (or OTC) financial derivatives of various foreign currencies and interest rate swaps.
The fund invests in the RAE Low Volatility Emerging Markets Model Portfolio through its affiliate the PIMCO Short-Term Floating NAV Portfolio III.
PLVVX invests in exchange-traded futures contracts of 90 days such as Eurodollars, U.S. Treasuries, and Australian government ten-year bonds.
PLVVX's entire portfolio is divided between fixed income corporate and government securities as well as derivative forwards, futures, options, and swap contracts of various assets.
In the next part of the series, we'll look at the effect of adding PLVVX to your portfolio.