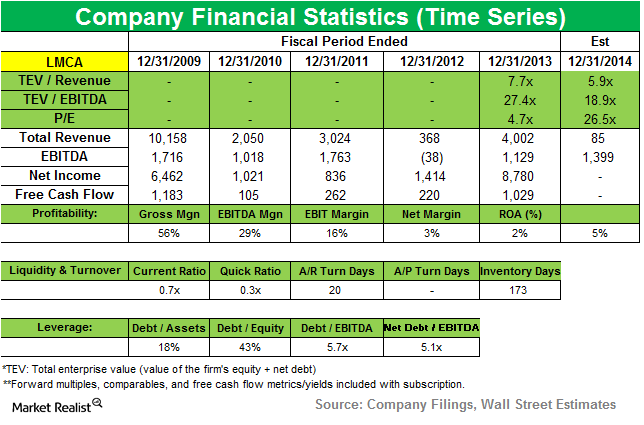 CalPERS adds new position in Liberty Media
CalPERS' new position in Liberty Media Corp.
For the quarter ended in September, The California Public Employees' Retirement System (CalPERS) added new positions in Weatherford International Plc (WFT), Liberty Media Corp. (LMCA), Alibaba Group Holding Limited (BABA), Fidelity National Financial Inc. (FNF), CBS Outdoor Americas Inc. (CBSO), and TRI Pointe Homes Inc. (TPH). Top exits included stakes in Fomento Economico Mexicano, SAB de CV (FMX) and Vodafone Group Plc (VOD).
CalPERS added a stake in Liberty Media Corp. (LMCA) that accounted for 0.04% of the pension fund's total portfolio for the quarter ended in September.
Article continues below advertisement
Liberty Media Corporation overview
Liberty Media Corporation owns interests in a range of communications and entertainment businesses, including these entities:
Sirius XM Holdings Inc.
Atlanta National League Baseball Club Inc. (or ANLBC)
Live Nation Entertainment
Time Warner Inc.
Viacom Inc.
Sirius XM provides a subscription-based satellite radio service. ANLBC owns the Atlanta Braves, a major league baseball club, and some of the Atlanta Braves' minor league clubs.
Liberty Media completes spin-off of cable business
Recently, Liberty Media completed the previously announced spin-off of its cable business, Liberty Broadband. Among other things, the cable business comprises Liberty Media's interests in the subsidiary TruePosition, Charter Communications, and a minority equity investment in Time Warner Cable.
A stock exchange filing from July notes that Liberty planned to carry out the spin-off by giving its shareholders dividends of all common shares and subscription rights so that stockholders can purchase Liberty's Series C common shares. The filing says that the stock dividend will be worth up to $4.8 billion.
Article continues below advertisement
After they abandoned a bid for the complete control of Sirius XM in March, Liberty initially planned to reclassify its common shares into two tracking stocks—Liberty Media Group and Liberty Broadband Group. The move aimed to fund the expansion of Charter Communications. In May, Liberty decided not to create tracking stocks, opting to spin off its cable businesses instead.
Sirius XM drives results in 3Q14
Liberty Media's revenue increased to $1.18 billion from $1.10 billion mainly due to growth at its subsidiary, Sirius XM, which posted net income of $33 million, or $0.10 per share, in its third quarter. Sirius XM reported revenue of $1.1 billion and generated a $136-million profit. Liberty Media noted in its 10Q filing that it acquired a 27% interest in Charter Communications for approximately $2.6 billion during the nine months ended September 30, 2013.
The next part of this series will provide an overview of CalPERS' new position in Alibaba Group.