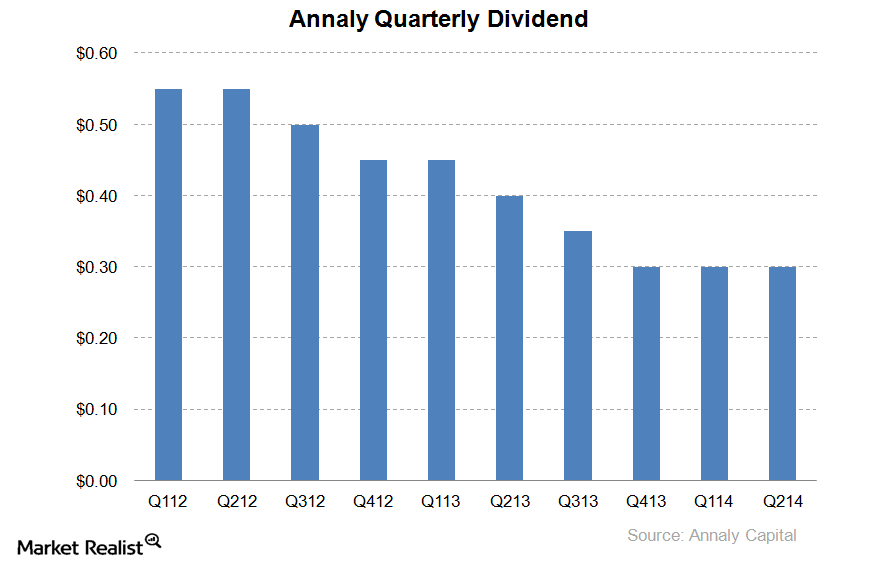 Annaly CEO Wellington Denahan shares her vision for the future
Highlights of the conference call
On the company's conference call to analysts and investors, Annaly CEO Wellington Denahan addressed the current interest rate environment and where she saw the company heading in the future.
On the current interest rate environment
Denahan said, "We continue to position our company to deal with the unintended outcomes of monetary policy wind-down and the opportunities that go with it. We've maintained leverage at very conservative 5.3-to-1 while delivering solid core earnings of $0.30 per share, and we beleive we can continue to support a competitive dividend going forward. "
The background to this comment was her discussing how the Fed's monetary policy has elevated asset prices and how she's thinking about the financial markets as the Fed disentangles itself from the financial markets and returns to a more traditional role.
Article continues below advertisement
Denahan further remarked, when asked by an analyst about increasing leverage, "You know I do get a feeling that there's a lot of dove-ishness at the Fed, and I don't think I'm alone in that feeling. And I do think they are looking for reasons to continue to, even in light of some stronger numbers, to continue to hold rates lower than I personally think they should, and probably lower than some other market participants think they should."
She continued, "So I don't think there's any reason right now to say we're going to just take leverage up and we feel completely comfortable about that. I do feel, being in the agency arena, you are on the front lines of potential re-engagement by the Fed, and so if things start to get a little out of control or volatility picks up or some of their fears start to surface in a bigger way, I think the mortgage market is going to be the beneficiary of that, and we feel comfortable in that position."
Outlook
This view on the unintended consequences of Fed withdrawal would apply to other REITs, like MFA Financial (MFA), Capstead (CMO), or Hatteras (HTS).