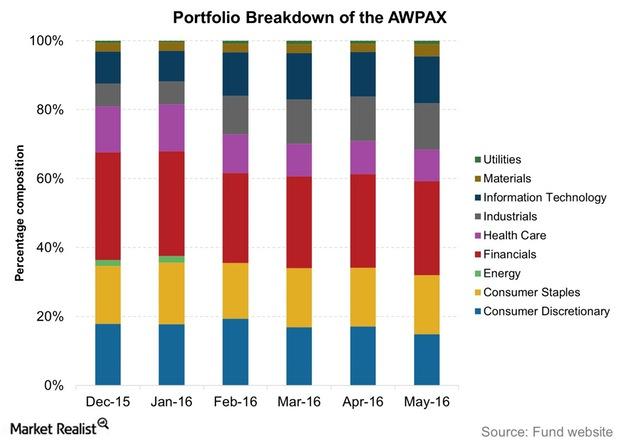 Portfolio Moves of the AB International Growth Fund in YTD 2016
AB International Growth Fund overview
The AB International Growth Fund (AWPAX) notes that it invests "in an international portfolio of equity securities of companies selected by the Adviser for their growth potential within various market sectors."
The fund literature states that it would be invested in stocks of companies located in three or more countries other than the US. Its assets are invested in developed and emerging markets. The fund can invest in derivatives like futures and options, as well as currency derivatives to hedge unfavorable currency exposure.
Bottom-up stock research is the primary driver for stock selection. Geographic allocation is not predetermined and is driven by the stock selection process. The fund would normally invest in 60 to 100 stocks.
The AB International Growth Fund's assets were spread across 57 holdings in May 2016, and it was managing $334.2 million in assets. In April, its equity holdings included Prudential (PUK), UBS Group (UBS), Tata Motors (TTM), Ctrip.com International (CTRP), and Mobileye N.V. (MBLY).
Article continues below advertisement
Article continues below advertisement
Portfolio changes in the AB International Growth Fund
Sector-wise, financials form the biggest portion of AWPAX. Consumer staples forms a distant second portion, followed by consumer discretionary. The three sectors form a combined 59% of the fund's assets.
Fund management has given the telecom services sector a miss. Over 97% of the portfolio is invested in foreign stocks while a little over 2% is invested in US stocks.
Exposure to financials has been reduced as fund management has let go of a few stocks from the portfolio (BAP) (ING). Healthcare received a similar treatment.
Among the consumer-focused sectors, AWPAX has increased its exposure to staples and decreased its exposure to discretionary. Industrials have seen a sharp rise in portfolio allocation.
Fund management let go of energy stocks in 1Q16. Utilities stocks were absent a year ago, but they now form 1% of the portfolio. Exposure to information technology stocks had been reduced intra-period, but it has been increased again.
With this portfolio positioning, how has the AB International Growth Fund – Class A (AWPAX) fared in YTD 2016 and why? Let's look at that in the next article.