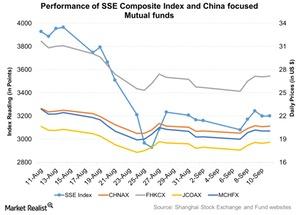 Turbulence in China's Stock Market
Shanghai Stock Exchange Composite Index
Due to recent stock market turbulence in China's stock market, the SSE (Shanghai Stock Exchange) Composite Index was down 22.7% month-over-month and ended at 3,200.23 points on September 11, 2015. Growing uncertainty in China and fear of a global slowdown resulted in panic selling among investors.
The SSE Composite Index includes all listed stocks, including A shares and B shares, at the Shanghai and Shenzhen Stock Exchanges.
Article continues below advertisement
A-shares are shares denominated in domestic currency such as the renminbi and are available only to domestic investors. B-shares are shares denominated in foreign currency such as US dollars on the Shanghai Stock Exchange and in Hong Kong dollars on the Shenzhen Stock Exchange and are available to foreign investors.

How effective were government measures to curb the stock market rout?
The China Securities Regulatory Commission (or CSRC), China's securities markets regulatory authority, and the People's Bank of China (or PBoC), China's central bank, jointly introduced measures in June to support the stock market.
These measures included suspension of initial public offerings, an interest rate cut, and enlisting brokerage firms to buy stocks backed by cash from China's central bank. However, the above measures provided little help to the stock market, and they tumbled again on August 24.
Now Chinese regulators are planning to implement stock market circuit breakers linked to the CSI 300 index, China's largest stock market index, to reduce volatility and stabilize the market during the turbulence.
Impact on China-focused mutual funds
As you can see in the above graph, it's clear that due to China's stock market turmoil, four mutual funds were down. These funds include the Clough China Fund – Class A (CHNAX), the Fidelity China Region Fund – Class C (FHKCX), the John Hancock Greater China Opportunities Fund – Class A (JCOAX), and the Matthews China Fund – Investor Class (MCHFX).
Chinese American Depositary Receipts (or ADRs) such as CNOOC (CEO); China Petroleum and Chemical Corporation, also known as Sinopec Limited (SNP); and PetroChina (PTR) fell 16.1%, 12.8%, and 26.7%, respectively, month-over-month from August 11 to September 11, 2015.