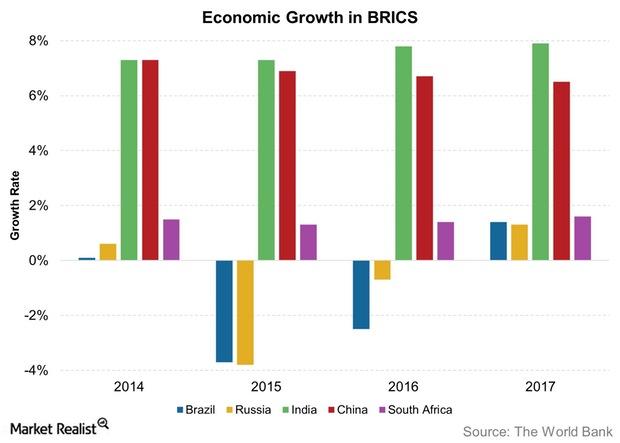 Are the BRICS Nations Standing on a Shaky Foundation?
BRICS
BRICS is an acronym for Brazil, Russia, India, China, and South Africa. South Africa was the latest addition to the group, joining in 2010. These nations represent economies that are expected to shoulder global economic growth in the future. A lot of expectations in terms of economic growth and financial markets were placed on these nations.
However, the expectations have been unfulfilled as of yet. A lot of that has to do with the interconnectedness of economies, ensuring that even countries with great potential are dependent on others for their well-being. But some of the disappointment has been due to domestic factors like lack of fiscal and structural reforms. For instance, retrospective taxation and FDI (foreign direct investment) in India and hukou (a household registration record) reform in China have continued to drag on.
Article continues below advertisement
Article continues below advertisement
China
Among the BRICS, the most concerning at this juncture is China. The world's second largest economy is slowing down and undergoing a structural shift from being an export-driven economy to a consumption-driven one.
Structural changes are not quick or easy to implement. But if they're implemented successfully, they place an economy in a position of strength.
China may take some time to find its feet. But apart from the macro economy, the country's equity markets have made news recently. Along with energy prices, the weakness in Chinese equities dragged on global financial markets since the beginning of 2016. Investors would be advised to taper down their Chinese investments a bit. They don't need to exit, though, as the nation remains one of the largest markets in the world.
Brazil
Brazil is in an economic and political turmoil. In the near-term, these facets are expected to hold the economy back. In fact, the World Bank expects Brazil's economy to post growth only from 2017 onward.
Article continues below advertisement
Russia
Russia's (LETRX) economy is expected to recede in 2016, albeit at a slower pace than in 2015. The nation has been hit hard by a fall in energy prices (OAOFY) (SGTZY) (OGZPY) and the effects will continue to be seen in 2016.
India
India (MINDX) seems like the best-placed BRICS nation in terms of macro economy. Investors should note, though, that India's financial markets will not emerge unscathed from the rate hikes in the United States. Indian stocks have already seen foreign investment outflows. However, the nation's macroeconomic fundamentals are much better than its peers, and it's a commodity importer, and hence, has benefited from the fall in their prices.
In the next article, we'll look at what the World Bank had to say about the US economy.