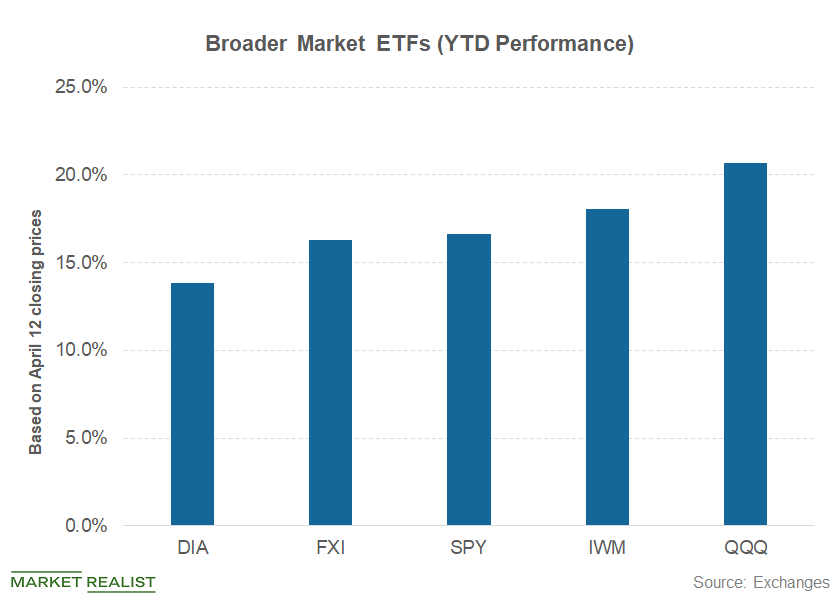 IMF and ECB Advocate Central Bank Independence
IMF
President Donald Trump has lashed out against the Federal Reserve and sees its tightening running contrary to the administration's growth agenda. Meanwhile, despite frequent criticism from Trump, the Fed went ahead with four rate hikes last year. The Fed has signaled no more rate hikes for 2019, which seems to be driven by the slowdown in US (SPY) economic growth and global uncertainties.
Article continues below advertisement
Warren Buffett
Last month, Berkshire Hathaway (BRK-B) chair Warren Buffett also supported Fed Chair Jerome Powell. Apple (AAPL) was Berkshire's biggest holding at the end of the fourth quarter. Berkshire's portfolio is overweight on banking and financial stocks (XLF). Bank of America (BAC), JPMorgan Chase (JPM), American Express (AXP), Wells Fargo (WFC), and Goldman Sachs (GS) are among Berkshire's financial holdings.
IMF
Now, the IMF and ECB have also gone to bat for central bank independence. Bloomberg reported that Draghi is "worried about central bank independence" especially "in the most important jurisdiction in the world." Draghi also added, "If the central bank is not independent then people may well think that monetary policy decisions follow political advice rather than an objective assessment of the economic outlook." In reference to central banks, IMF managing director Christine Lagarde said, "independence has served them well over the course of time and hopefully will continue to do so."
India
Meanwhile, central bank independence has been under scrutiny in some countries. Last year, India's central bank governor abruptly resigned amid reports that the government was pushing the central bank for rate cuts. Notably, the new governor went ahead with rate cuts. The IMF has also raised concerns over the Turkish central bank's independence.
As economic growth stalls globally, we could see more governments push their central banks for rate cuts. Read Economic Slowdown Deepens, Central Banks Take Charge for more analysis.