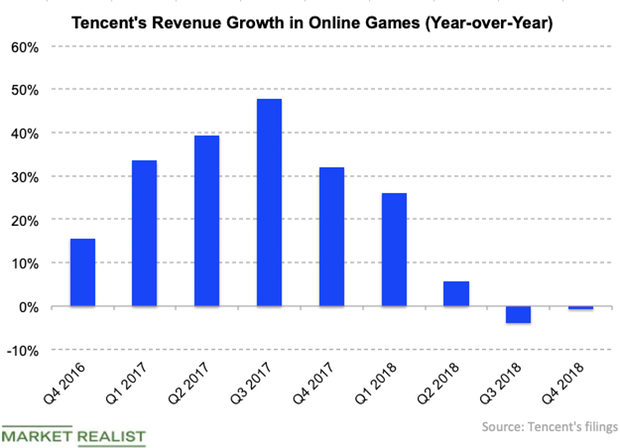 What Made up for Tencent's Gaming Revenue Decline
By Sanmit Amin

Mar. 22 2019, Published 11:10 a.m. ET
Gaming revenue now represents a smaller portion of total revenue
Chinese authorities froze approvals for new games in China last year, denting Tencent's (TCEHY) growth. China has since started giving approvals again, though not at the speed Tencent would like.
Last October, the company announced a major restructuring to sharpen its focus on cloud and financial technology and reduce its reliance on gaming. This strategy seems to have paid dividends, as we will see later.
Video game revenue fell 0.69% YoY (year-over-year) to 24.2 billion Chinese yuan ($3.55 billion) during the fourth quarter. Gaming's share of Tencent's total revenue shrank YoY to 28.5% from 36.7%.
Article continues below advertisement
Tencent sees robust growth in other segments
Tencent's live streaming and video revenue grew 25% YoY to 19.4 billion yuan ($2.8 billion) in the fourth quarter, and its advertising revenue (which mainly comes from WeChat) grew 38% YoY to 17.0 billion yuan ($2.5 billion).
Tencent's cloud revenue doubled last year to 9.1 billion yuan (or $1.34 billion). Its "other" segment, which includes its financial technology and cloud computing businesses, grew 71.8% YoY to 24.2 billion yuan ($3.55 billion).
This segment's growth compensated for the steep slowdown in Tencent's gaming revenue. Tencent stock has risen 50% since troughing on October 29.