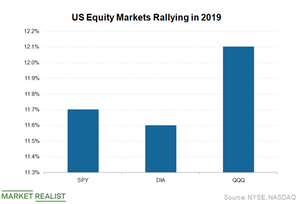 Why Gundlach Still Thinks We're in a Bear Market
By Anuradha Garg

Updated
Gundlach still thinks we're in a bear market
In December, Gundlach said, "I'm pretty sure this is a bear market." He pointed out that even FAANG stocks—Facebook (FB), Apple (AAPL), Amazon (AMZN), Netflix (NFLX), and Google (GOOGL)—were in or near a bear market. While markets fell steeply in December, with the S&P 500 (SPY) falling 9.3% and the Dow Jones Industrial Average (DIA) falling 8.7%, the indexes have been rallying year-to-date. However, Gundlach told Yahoo Finance that he still thinks we're in a bear market, and that "a bear market has nothing to do with this 20% arbitrary thing."
Article continues below advertisement
The Fed's pivot helps markets
Gundlach added that the bear market has to do with "something crazy happening first, and then the crazy thing gives it up." As an example, he used bitcoin (BTC), which peaked in December 2017.
He thinks stock markets have been somewhat saved by the Fed's pivot. The Fed's hawkish stance was a major reason for the stock sell-off in last year's fourth quarter. With the Fed's back-to-back comments regarding being more patient with policy tightening this year, markets have rallied year-to-date.
Competition to stock markets from the bond market
Gundlach also thinks the bond (BND) (AGG) rally has taken some pressure off the stock market (IVV). However, he believes that "if the long end of rates starts to rise," and the 30-year Treasury rate crosses 3.5%, "it's over."
In that case, competition from the bond market, especially if stock buybacks are restricted, could put stock markets in jeopardy. To learn more about Gundlach's views, read Most of Gundlach's 2018 Calls Were Spot On-What About 2019?