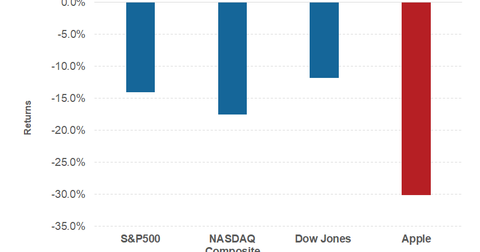 Warren Buffett versus David Einhorn: Who's Right about Apple?
By Jitendra Parashar

Updated
Warren Buffett
In the previous article, we looked at the top five holdings of multibillionaire investor Warren Buffett's investment company, Berkshire Hathaway (BRK.B). Among Berkshire's top holdings as of the end of the third quarter of 2018, Apple (AAPL) turned out to be one of the worst performers in the fourth quarter last year.
In the fourth quarter, AAPL fell 30.1% compared to the 14.0% and 17.5% losses in the S&P 500 Index (SPY) (VTI) and the NASDAQ Composite Index (QQQ), respectively.
Article continues below advertisement
Other investors lost hope in Apple
In October 2018, investor David Einhorn's hedge fund, Greenlight Capital, revealed that it had sold all its long positions in Apple at $228 per share on August 31, 2018. In August last year, Apple was trading on a bullish note, and in the coming months, the stock fell sharply after posting its 2018 high of near $233.47. In August, Apple posted a high of $228.87, very close to Einhorn's exit price.
While talking about his company's exit from Apple, Einhorn noted, "We ultimately sold because our differentiated thesis from 2011 has become consensus. We are somewhat worried about Chinese retaliation against America's trade policies," CNBC reported.
Greenlight Capital's exit from long positions in Apple near its 2018 high looks like a smart move, as many concerns—including falling iPhone sales in China—started to take a toll on its stock in the fourth quarter of 2018.
In contrast, Buffett's Apple position swelled to an all-time high at the end of the third quarter last year. However, Buffett might not be completely wrong about Apple. We'll talk more about this in the next article.