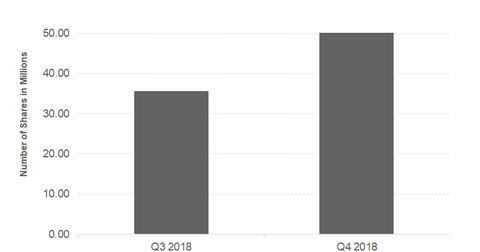 Buffett to Investors: 'Focus on the Forest, Forget the Trees'
By Jitendra Parashar

Updated
Buffett's investments
One of the world's most successful investors of all times, Warren Buffett believes in investing for the long term. This is the reason why he gives more importance to the earnings retained by the companies he has invested in rather than pay attention to quarterly or annual stock returns and dividends. As noted in the previous part, the retained earnings share of Buffett's investment firm, Berkshire Hathaway (BRK-B), from its top five holdings in 2018 was $6.3 billion. These top five holdings included American Express (AXP), Apple (AAPL), Bank of America (BAC), Coca-Cola (KO), and Wells Fargo (WFC). Other than these companies, Buffett is also betting big on US Bancorp (USB), JPMorgan Chase (JPM), Bank of New York Mellon Corp (BK), Delta Air Lines (DAL), and Goldman Sachs (GS).
Article continues below advertisement
"Focus on the forest, forget the trees"
In his annual letter to Berkshire Hathaway's shareholders, Buffett gave his advice to investors. Under the title "Focus on the Forest – Forget the Trees," he wrote, "Investors who evaluate Berkshire sometimes obsess on the details of our many and diverse businesses – our economic 'trees,' so to speak." According to Buffett, this type of analysis "can be mind-numbing" as his investment firm's portfolio is huge.
Buffett, in his style, admitted that many of the companies that he has invested in are not good, saying, "A few of our trees are diseased and unlikely to be around a decade from now. Many others, though, are destined to grow in size and beauty."
He went on to say that it's not important to analyze each company Berkshire owns individually. Buffett reminded investors that Berkshire's main goal is to buy ably-managed businesses, in whole or part, that possess favorable and durable economic characteristics "at sensible prices."
Read on to the next part where we'll discuss why the Oracle of Omaha believes that share repurchase is a great idea.