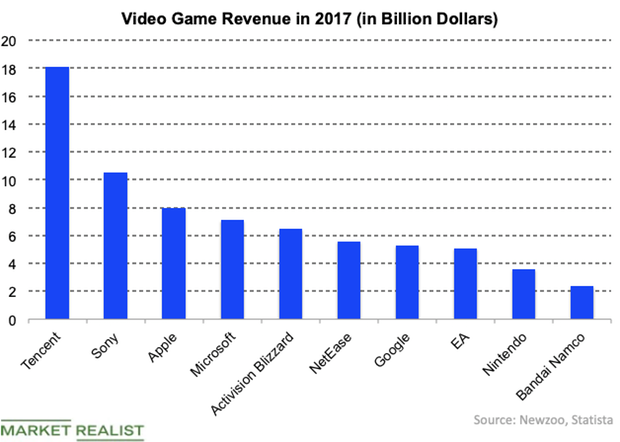 Why Tencent Could Continue to Struggle in 2019
By Sanmit Amin

Jan. 2 2019, Updated 1:58 p.m. ET
No Tencent games got the green light in the first batch of approvals
Chinese internet giant Tencent (TCEHY) had a lousy 2018. The stock fell 23.8% in 2018 as a result of Chinese authorities cracking down on online games, delaying the launch of many games. Chinese authorities have frozen licenses in the online gaming fanatic country to reduce the negative social impact of online gaming.
Since Tencent, the world's biggest gaming company, hasn't been able to monetize its games, its revenue growth slowed in 2018. Tencent's revenue from gaming declined 4% year-over-year in the third quarter of 2018.
While Tencent is known for its ubiquitous chatting app, WeChat, a good chunk of its revenue comes from gaming.
Article continues below advertisement
Tencent is beginning to focus more on its other businesses
Chinese regulators just approved the release of 80 online games after freezing their release for months, Reuters reported. However, there's no respite for the Internet giant as Tencent's games aren't included in the first batch of license approvals.
These delays could continue to affect the company's top and bottom lines in 2019. Chinese authorities are likely to greenlight online games gradually in 2019.
One silver lining for Tencent has been the success of Fortnite. Tencent owns 40% of Fortnite's maker, Epic Games.
Tencent underwent a massive reorganization initiative in October to sharpen its focus on cloud services and maps. The company has also taken a leaf out of SoftBank's playbook and backed some fast-growing Asian startups.