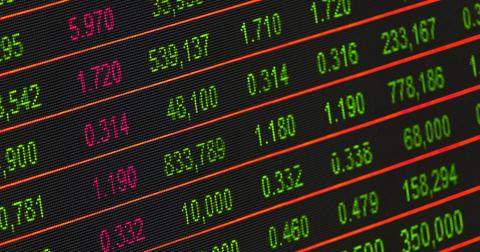 S&P 500 Bleeds on Reports of US-China Trade Talks Going off Track
By Jitendra Parashar

Jan. 23 2019, Published 1:04 p.m. ET
US-China trade talks
On Tuesday, a Financial Times report sent tremors through the broader market. The report claimed that "The Trump administration has rejected an offer from China for preparatory trade talks this week," Reuters reported. Similarly, another report by CNBC claimed that "The White House rejected a trade planning meeting with Chinese counterparts this week." The CNBC report cited "outstanding disagreements between the two sides over the enforcement of intellectual property rules" as a reason for the cancellation.
Article continues below advertisement
Other negative factors
The cancellation of this week's meeting between US and Chinese officials could be a major setback before the high-level talks between the two nations scheduled for January 30 and January 31.
Also, the National Association of Realtors also reported much weaker-than-expected existing home sales data for December 2018, which stood at 4.99 million as compared to the expectation of 5.27 million. This was the first time since January 2016 that monthly existing home sales data fell below 5.00 million.
S&P 500 bleeds
It's important to note that the key US indexes started Tuesday trading on a negative note due to investors' fear of slowing global economic growth. The release of weaker-than-expected existing home sales data and the reports of US-China trade talks going off track made the situation worse for investors.
The S&P 500 Index posted a low near 2,617, down 2.0% from its previous session's closing. At 3:43 PM EST, the index was trading with 1.6% day losses. Apple (AAPL), International Business Machines (IBM), Microsoft (MSFT), Alphabet (GOOG), NVIDIA (NVDA), Qualcomm (QCOM), Intel (INTC), General Electric (GE), Boeing (BA), Amazon (AMZN), Facebook (FB), Netflix (NFLX), and Advanced Micro Devices (AMD) were down by 2.2%, 1.4%, 2.2%, 2.8%, 5.6%, 1.9%, 2.2%, 4.8%, 2.1%, 4.0%, 1.7%, 4.3%, and 4.8%, respectively.
US automakers General Motors (GM), Ford (F), Fiat Chrysler (FCAU), and Tesla (TSLA) were trading with 1.2%, 0.9%, 2.0%, and 1.7% day losses, respectively. Chinese companies Tencent Holdings (TCEHY), Alibaba (BABA), Baidu (BIDU), and NIO (NIO) were down 3.0%, 3.9%, 7.4%, and 2.1%, respectively.