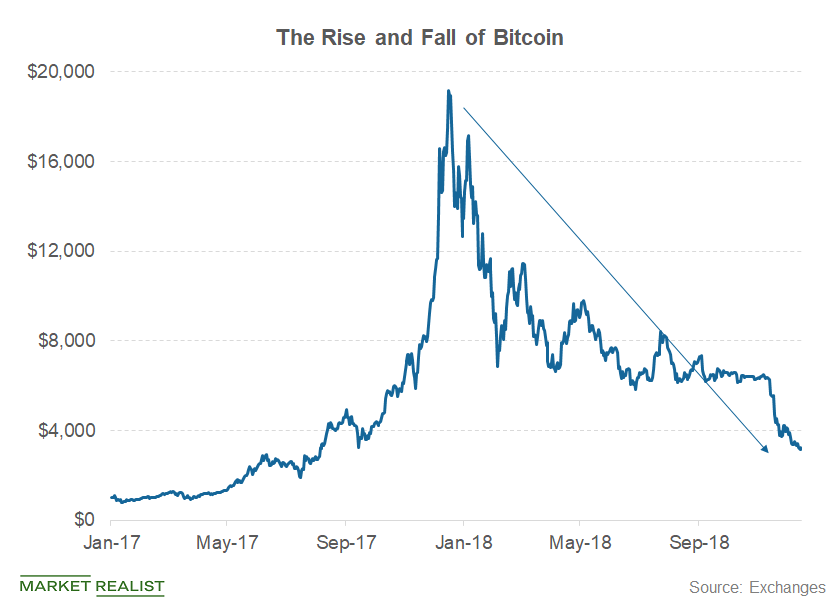 Cryptocurrencies Could Prove Warren Buffett Wrong
By Mohit Oberoi, CFA

Jan. 9 2019, Updated 10:30 a.m. ET
Cryptocurrencies
Warren Buffett, Berkshire Hathaway's (BRK-B) chairman, has been critical of cryptocurrencies. Last year, he called bitcoin "rat poison squared." Buffett also said that "in terms of cryptocurrencies, generally, I can say with almost certainty that they will come to a bad ending." He said, "If I could buy a five-year put on every one of the cryptocurrencies, I'd be glad to do it but I would never short a dime's worth."
Article continues below advertisement
Non-productive asset
Buffett has called cryptocurrencies a "non-productive asset." He compared cryptocurrencies to gold and tulips during last year's shareholder meeting. Buffett is overweight on banks (IYF). Berkshire Hathaway was the largest shareholder in Wells Fargo (WFC) and Bank of America (BAC) at the end of the third quarter. Buffett also added JPMorgan Chase (JPM) to Berkshire Hathaway's portfolio in the third quarter.
In response to a question on whether cryptocurrencies would impact conventional banking, Buffett was candid and compared cryptocurrencies to a "check" that doesn't have any intrinsic value of its own.
Cryptocurrencies had a hard time in 2018. While cryptocurrencies including bitcoin rose in 2017, they crashed badly last year. Bitcoin prices almost fell to $3,000. The prices were near $20,000 towards the end of 2017.
Will cryptocurrencies prove Buffett wrong?
Cryptocurrencies could have a tough time proving Buffett wrong. Massive volatility and frequent scams don't make cryptocurrencies look attractive to most investors. The markets still don't know how to value bitcoin. Traders have been valuing cryptocurrencies based on technical indicators—something Buffett doesn't endorse.
Read Following Warren Buffett Might Not Always Yield Profits for more analysis on Buffett's stocks.