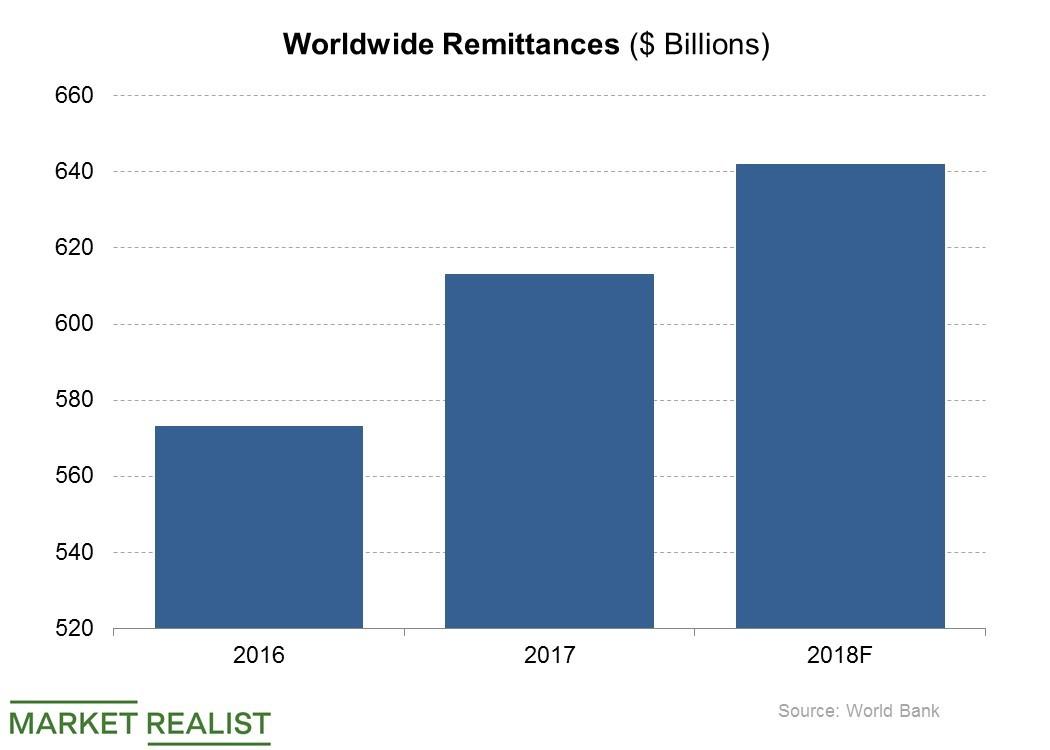 What's in the Canadian Market for PayPal's Xoom?
By Neha Gupta

Dec. 18 2018, Updated 7:31 a.m. ET
PayPal launches Xoom in Canada
PayPal (PYPL) has introduced its international money transfer service, Xoom, in Canada, meaning that Canadians can now use Xoom to send money to more than 130 countries. Until now, Xoom only supported international money transfers from the United States. The arrival of Xoom in Canada means PayPal can now serve more customers seeking to send money overseas.
People can use Xoom to send money to family members abroad. Given its more than 7.5 million foreign residents who may want to send money to their families back home, Canada could be a huge market for Xoom. In addition to its large foreign population, Canada is also home to more than 6.5 million active PayPal users who could benefit from Xoom's arrival in the country.
Article continues below advertisement
Global remittances to hit $642 billion in 2018
Canadians remit nearly $24 billion annually, PayPal said in a press release. According to data from the World Bank, $613 billion remittances were made globally in 2017, up from $573 million in 2016. Global remittances are expected to grow to $642 billion in 2018.
PayPal steps up the competition with Western Union and MoneyGram
Through Xoom, PayPal competes with the likes of Western Union (WU) and MoneyGram (MGI) for revenue in the global remittance market. PayPal generated $13.1 billion of revenue in 2017, representing an increase of 21%. Revenue rose 2.0% to $5.5 billion at Western Union but fell 2.0% to $1.6 billion at MoneyGram in 2017.
Square's (SQ) revenue rose 30% to $2.2 billion, and Yandex's (YNDX) revenue jumped 24% to $1.6 billion in 2017. Square and Yandex compete with PayPal in the merchant payment processing market.