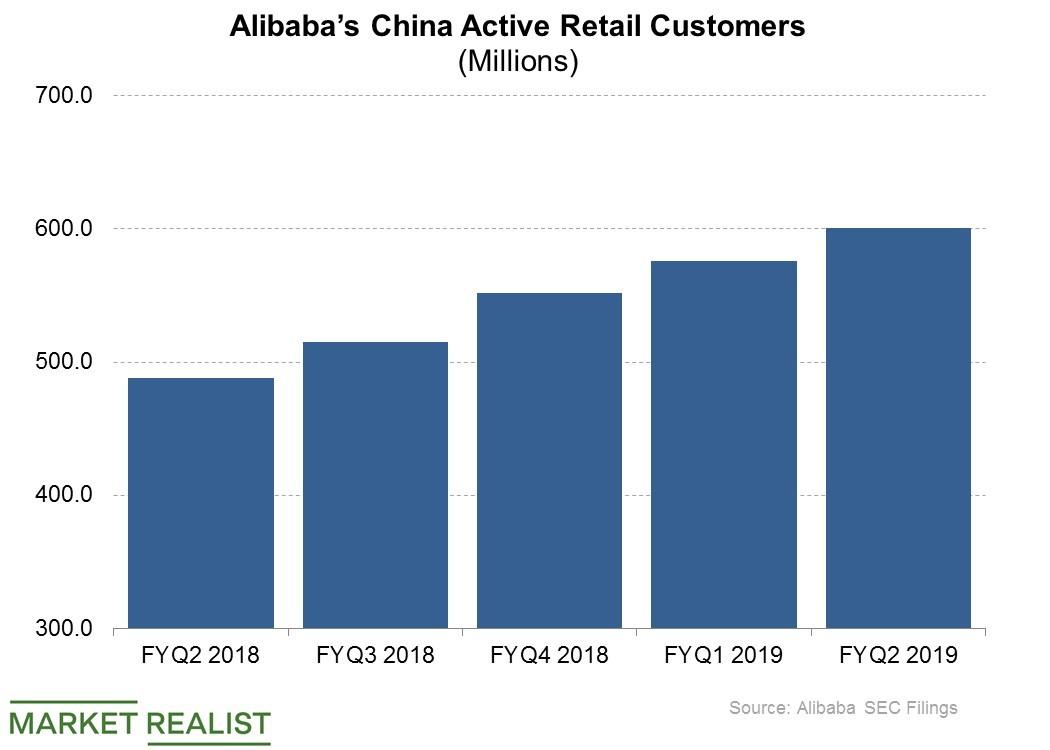 How Many People Shop on Alibaba Marketplaces?
Alibaba gained 25 million shoppers
Alibaba (BABA) operates several online marketplaces in China and internationally. In China, it operates Taobao and Tmall. It recently closed its second quarter of fiscal 2019 with a reach of 601 million active consumers across its retail marketplaces in China, showing that it had gained 25 million shoppers in China in one year.
As a result of this customer gain, Alibaba's global commerce revenue rose 56% YoY (year-over-year) to $10.6 billion in the quarter. China is Alibaba's largest commerce market. Alibaba's goal is to reach 2.0 billion customers globally by 2036.
Article continues below advertisement
JD plugs into WeChat's user base
In China, Alibaba is in a race with the likes of JD.com (JD) and Walmart (WMT) for retail customers. JD reaches ~320 million active shoppers directly across China. It also has a partnership with Tencent (TCEHY) that allows it to sell to WeChat users. With its customers and WeChat users combined, JD has the potential to reach more than 1 billion shoppers across China.
On its part, Walmart operates hundreds of physical retail locations across China. On top of this, the company operates an online store based on JD's platform.
eBay has 177 million shoppers globally
Globally, Alibaba is battling eBay (EBAY) and Amazon (AMZN) for retail customers. eBay closed the third quarter with 177 million active shoppers across the world. Amazon doesn't disclose its retail customer reach, but the company is estimated to serve nearly 400 million retail customers across the United States.