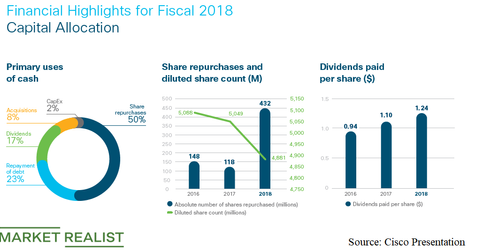 Could Cisco Be a Safe Bet for Investors?
By Adam Rogers

Updated
Revenue and earnings growth
We have seen that Cisco (CSCO) is likely to experience revenue growth over the next three fiscal years despite being part of mature markets. Its infrastructure segment grew 7% last quarter, while the Applications and Security segments continue to drive sales.
The company is not trading at lofty valuations and has an upside potential of 13%, according to average analyst estimates. Though Cisco faces competition from high growth companies such as Huawei and Arista Networks (ANET), it still leads most business segments in terms of market share and revenue.
While Cisco's revenue fluctuated between $47 billion and $48 billion between fiscal 2013 and fiscal 2017, it is estimated to reach $55 billion by the end of fiscal 2021. Cisco has experienced revenue growth via acquisitions as well, and it acquired eight companies last year.
Article continues below advertisement
Subscription revenue
Cisco has also diversified into software and cloud services, which has led to a recurring stream of subscription revenue. In fact, over 32% of the company's revenue in fiscal 2018 was subscription-based. The services segment accounts for approximately 26% of sales for Cisco.
Strong balance sheet
Cisco ended fiscal 2018 with an operating cash flow of $13.7 billion. It has over $45 billion in cash reserves that can be used for future acquisitions, buybacks, and dividend payouts. In the above chart, we can see that Cisco used 8% of its cash for acquisitions, 17% for dividend payouts, 23% for debt repayment, and 50% for stock repurchases, an indication that the management is optimistic about long-term share price appreciation. Cisco has increased dividends paid per share from $0.94 in fiscal 2016 to $1.10 in 2017 and $1.24 in 2018. Cisco will likely raise dividends by double digits in 2019 as well.
Cisco's dividend yield is solid at 2.9%. Peer companies IBM (IBM), Hewlett Packard Enterprise (HPE), Ericsson (ERIC), and Juniper (JNPR) have dividend yields of 5.2%, 2.8%, 1.4%, and 2.4%, respectively.