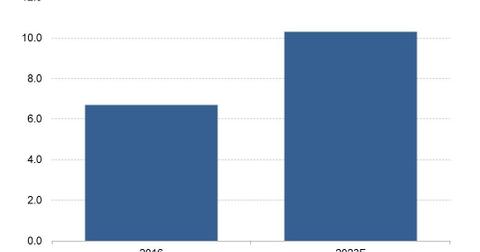 Square's in the Race for the $10.3 Billion Payroll Service Market
By Neha Gupta

Updated
Helping small businesses stay tax compliant
Last month, Square (SQ) released a mobile version of its payroll software, marking an escalation in its push for revenue in the payroll service market. The mobile-oriented payroll tool, known as Square Payroll App, brings the power of Square's flagship payroll suite to mobile.
Square Payroll App lets small business employers manage payrolls on the fly. Like the desktop version, the mobile app also handles tax withholding and filing tasks, helping small business employers stay compliant on tax issues even if they are mostly on the go. Improper tax filings can attract expensive fines from the IRS.
Article continues below advertisement
Cloud-based payroll service market expanding
Worldwide, businesses spent $6.7 billion on cloud-based payroll services like Square provides in 2016, according to Allied Market Research. By 2023, global spending on cloud-based payroll services is expected to surpass $10.3 billion.
Square competes with Automatic Data Processing (ADP), Intuit (INTU), Paychex (PAYX), and Paycom Software (PAYC) in the race for revenue in the payroll service market. ADP, Paychex, and Paycom grew their revenues 8.3%, 8.8%, and 31.1% YoY (year-over-year), respectively, in the quarter that ended in June. Intuit reported revenue growth of 17.3% YoY in its fiscal 2018 fourth quarter, which ended in July.
Big business penetration
Square is moving to make its payroll tools broadly available at a time when it is also trying to woo big businesses to its platform. The company hit a milestone in the second quarter as businesses making more than $125,000 in annual sales rose to account for 50% of its transaction volume—a first for the company.