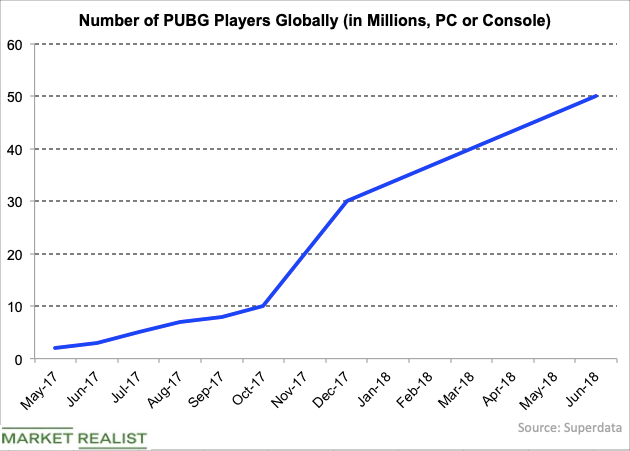 How Tencent Has Gained from PUBG and Fortnite
By VanEck

Oct. 30 2018, Published 2:51 p.m. ET
VanEck
LOPEZ: What's the most popular game right now?
LEE: The game that's getting all the buzz, the game that's in the news the most, is Fortnite. That's the game where you hear parents complain that their 12-year old won't go to bed because they're staying up all night. That's where the most popular streamers are. What's interesting is the fact that what is the biggest game today wasn't necessarily the biggest game six months ago or a year ago. The game before Fortnite to beat was PlayerUnknown's Battlegrounds, known as PUBG. PUBG was the game of 2017. Everybody was playing, it had a lot of hype. Tons of people were getting involved. Then Fortnite was released and everybody went from PUBG to Fortnite and that's where all the action is right now.
LOPEZ: For investors looking to get access to this theme, are these franchise fees enough? What other revenue streams do they have to?
Article continues below advertisement
LEE: The game publishers are licensing the rights to the games so that other people can maybe start a league or have a team. There are in-game purchases that are being made so, for example, Fortnite, it's a free game to play, but you can, once you play, buy little add-ons. They're called "skins" so you can make a character look different or have a different looking weapon. So little things like that illustrate to me that it's an evolving dynamic situation where new things are happening and these companies are really pushing the envelope in how they're going to make money off of these games. Millions and millions of people are playing these free games and the video game makers are making money off of them.
LOPEZ: It's a young demographic here, right?
LEE: Sure. I believe the average eSport participant is 29 years old. When you compare that with traditional sports fans, I think the average NFL watcher is 58-60 years old. So there's a huge shift in demographics and I think that speaks to the disruptive force of the whole space. You've got people who are not watching TV, they're not turning on Sunday night football, they're playing eSports all weekend. We see that anecdotally and we also see that in the research and the data.
Market Realist
Bluehole's PlayerUnknown's Battlegrounds (or PUBG) and Epic Games' Fortnite are two of the most popular online games at the moment. In June, PUBG had 50 million players. Fortnite had a whopping 78.3 million players in August.
Epic Games makes money from Fortnite though the sale of in-app items such as virtual costumes. It has generated more than $1 billion in revenue from these microtransactions over the past year, according to the Wall Street Journal. According to the report, Epic Games now has a valuation of $15 billion. Tencent (TCEHY) has a stake in Epic Games.
Tencent is the biggest gaming company in the world. In 2017, Tencent earned a staggering $18.3 billion in gaming revenue. However, its stock has fallen nearly 40% year-to-date, as it's facing regulations from Chinese authorities.