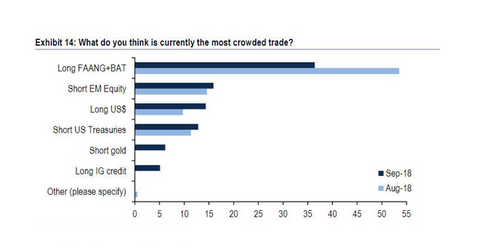 As Tech Leads the Market Decline, What Are Investors Eyeing?
By Anuradha Garg

Updated
Tech stocks lead the market decline
Technology companies are the ones leading the current market decline. Amazon (AMZN), Netflix (NFLX), and Apple (AAPL) stocks took a sound beating yesterday and plunged 6.1%, 8.4%, and 4.6%, respectively. Since these are the same companies that have seen huge upward runs in 2018, their market-leading losses aren't surprising.
Investors' stretched valuation concerns have been especially acute in the US tech space (XLK), meaning that tech stocks are much more vulnerable to higher interest rates.
Article continues below advertisement
Trade worries hit tech harder
Another investor worry particularly acute for tech stocks (QQQ) is the potential impact of the US-China trade war. These companies are much more exposed to China and could face a harder tariff pinch. China (FXI) is the global manufacturing hub of semiconductor (SMH) and consumer electronics.
US tariffs would make goods manufactured in China expensive for US companies, encouraging them to move their operations or supply chains away from China. In September, memory chip maker Micron Technology (MU) reported weaker guidance for its November quarter for several reasons, one of which was tariffs.
Intel (INTL) manufactures a majority of its semiconductors at its US facility and outsources assembly to Chinese companies. After the tariffs, whether Intel retains its Chinese operations, relocates them, or changes suppliers, all options will increase its costs. Hewlett Packard Enterprise (HPE) warned that tariffs would increase its component costs, as most of its server components are made in China.
Read The US-China Tariff War Is Squeezing US Semiconductor Companies for more on this topic.
Article continues below advertisement
Most crowded trade
The so-called FAANG and BAT stocks—US stocks Facebook (FB), Apple, Amazon, Netflix, and Google (GOOGL) and China's Baidu (BIDU), Alibaba (BABA), and Tencent (TCEHY)—have been some of the most crowded trades of the year. According to a Bank of America Merrill Lynch survey in August, FAANG and BAT were identified by 36% of respondents as the most crowded trades for the eighth consecutive month.
Extreme market positioning has led to steep declines in these stocks on the emergence of a negative catalyst.
As the risk-off sentiment takes hold in the market, investors could rotate out of more growth-oriented and expensive stocks and into relatively stable defensive stocks. Utilities, for example, saw the lowest losses among all sectors yesterday. Holding gold (GLD) and other precious metals is another way of diversifying risk in such a volatile environment.
In the next article, we'll discuss the outlook for the market for the rest of 2018 and 2019. We'll also take a look at what factors investors will be keenly looking forward to.