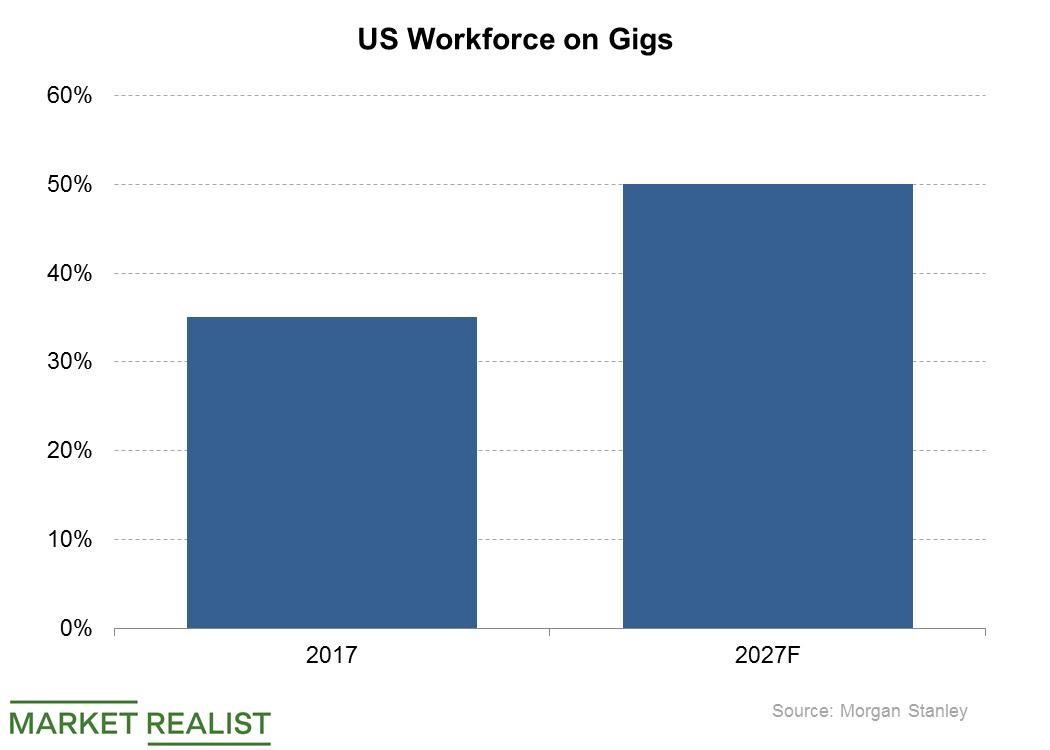 A Look at PayPal's Place in the $3.7 Trillion Gig Economy
By Neha Gupta

Oct. 11 2018, Updated 9:01 a.m. ET
More than 35% of US workforce on gigs
The global freelance—or "gig"—economy was worth $3.7 trillion in 2017, and it continues to expand. About 35% of the US workforce was doing gigs, meaning working on short-term contracts or freelance jobs, in 2017. Gig workers are expected to account for more than 50% of the US workforce by the end of 2027, according to Morgan Stanley.
As more people embrace gig work, their payment preferences are also changing, and that's good news for PayPal (PYPL). According to the gig economy report from PYMNTS, 51% of full-time gig workers prefer to receive their dues through PayPal.
Article continues below advertisement
Availability in more than 200 countries
PayPal's widespread availability and ease of use are a couple of the reasons it's become the preferred payment method for the majority of gig workers. It's available in more than 200 countries and regions and has attracted ~250 million active users. Its rival Square (SQ) has only rolled out in five countries so far.
PayPal is in a tough race for payment customers
Given that PayPal is in heated competition with Square, Amazon (AMZN), and MoneyGram (MGI) for payments and money transfer customers, being the favored payment option for gig workers places PayPal in a great competitive position.
MoneyGram is a global leader in money remittance. Alibaba-backed (BABA) Ant Financial recently sought to acquire MoneyGram for $1.2 billion, but the White House scuttled the deal over national security concerns. Amazon processes payments for businesses and consumers who sell or shop on its marketplace.