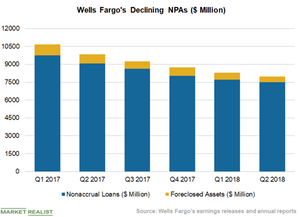 Wells Fargo Is Focusing on Improvements in These Two Areas
By Anirudha Bhagat

Updated
Lower nonperforming assets
In the last two quarters, Wells Fargo & Company (WFC) has seen a decline in its loanbook while its peers have managed growth of 2%–7%. The decrease in the company's lending has mainly been the result of strict underwriting guidelines, prepayments, and a decline in automobile and mortgage-backed loans.
However, the company has been able to strengthen its balance sheet due to stricter guidelines, which have helped it reduce its nonperforming assets and improve its capital adequacy ratio.
With its strong balance sheet, Wells Fargo is positioned well to target higher retail and commercial lending in future quarters. Although the Fed has granted it clearance to raise its shareholder payout, it has yet to make strategic moves to grow its credit.
Article continues below advertisement
Industry spreads
Commercial bankers (XLF) JPMorgan Chase (JPM) and Bank of America (BAC) have managed 5%–6% lending growth. These banks are also investing heavily in technology to boost their trading and asset management segments, thereby increasing their non-interest income. Wells Fargo's peer Citigroup (C) is lagging with 2% credit growth and a marginal trading income increase due to higher stakes in debt-related trading.
Investment bankers Goldman Sachs (GS) and Morgan Stanley (MS) are generating better returns on capital. The banks have cleared the Fed's Dodd-Frank stress tests under the condition that they don't increase their dividends or repurchases.
Consumer lending
In the second quarter, Wells Fargo's average loans fell 1%, whereas its deposits fell 2%. Its non-accrual loans fell year-over-year to $7.5 billion from $9.1 billion, forming less than 0.80% of its total lending book.
Moreover, the bank's Consumer Loans segment remained weak, falling to $441 billion from $451 billion in the previous year's quarter. The decline was mainly due to weaker junior loan mortgage and automobile loans, which were partially offset by family-first mortgage loans and credit card lending.