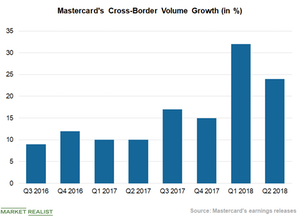 Mastercard Sees Larger Opportunity in B2B Payment Space
By Anirudha Bhagat

Sep. 12 2018, Updated 4:30 p.m. ET
B2B payments
Over the last year, Mastercard (MA) has focused on a more lucrative and larger payment opportunity—business-to-business (or B2B) payments. The company's CFO, Martina Hund-Mejean, believes that the financial industry has mostly neglected the B2B payment space.
During the May 31 Bernstein Strategic Decisions Conference, Hund-Mejean estimated that the global market size of B2B payments is ~$120.0 trillion. Of this, only $20.0 trillion is negotiated at a point of sale while the remaining transactions are conducted via ACH (Automated Clearing House), checks, or cash.
Hund-Mejean noted that while digitalizing the B2B space would be a difficult task, the company is trying to do just that. Since 2017, Mastercard has been working to accelerate the adoption of digital payments in the travel industry through its various platforms.
Hund-Mejean noted that travel agencies must undergo a paperwork-intensive process while making payments to hotels, airlines, and tour operators as part of tour packages. Mastercard's Mastercard B2B Hub is intended to streamline that process.
This initiative has significantly boosted the company's cross-border volumes. Mastercard had reported YoY (year-over-year) increases of 32.0% and 24.0%, respectively, in cross-border volumes for the first and second quarters.
Article continues below advertisement
Expanding B2B payment capabilities
Looking at the immense opportunities available in the B2B payment market, Mastercard (MA) is enhancing its capabilities with new solutions such as Mastercard B2B Hub, Mastercard Send for cross-border payments, and real-time account-based payment systems for ACH transactions.
Launched in 2017, Mastercard B2B Hub allows small and midsized enterprises to optimize their invoice and payment processes with tools that improve the speed, ease, and security of their commercial payments. Mastercard expects its B2B offerings to lead to long-term growth.
Other players in the payment processing industry (IPAY) such as Visa (V), PayPal Holdings (PYPL), and Global Payments (GPN) are also increasing their capabilities in the B2B payment space. Visa provides a service that's similar to Mastercard B2B Hub through Visa Ready Program for Business Solutions.
PayPal has partnered with firms like Sage and Reckon, which allow businesses to pay their suppliers via the PayPal platform.