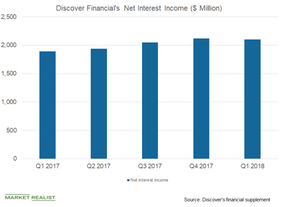 What to Expect from Payment Processing Companies in H2 2018
By Raymond Anderson

Dec. 4 2020, Updated 10:42 a.m. ET
Looking at the past
Payment processing companies like Mastercard Incorporated (MA) and Visa Inc. (V) expect to see a hit in their payment volumes moving forward. Consumer confidence is expected to be impacted by trade tensions. In the first quarter, Visa's payment volume totaled $1.99 trillion while Mastercard's gross dollar volumes reached $1.41 trillion.
In the first quarter, the markets were impacted by events such as interest rate hike expectations and the trade war. As a result, the markets witnessed significant volatility as the CBOE Volatility Index (VIX) reached 37.32 in February. Trade wars negatively affect a variety of global economic parameters and can hinder growth.
However, corporate earnings supported equities, and the markets started to witness positive momentum. The jobs report helped the markets, as the May unemployment rate reached 3.8% and the outlook for payment processing companies became positive.
Article continues below advertisement
Lower unemployment typically leads to increased consumer spending, which is expected to boost the business fundamentals of Capital One Financial Corporation (COF) and Discover Financial Services (DFS). In the first quarter, Capital One's net income totaled $1.3 billion while Discover's net income reached $666.0 million.
What's ahead for H2 2018?
The remaining half of the calendar year is expected to be impacted by rising trade tensions between China and the United States. After the Federal Reserve's most recent meeting, the expectations of three hikes in 2018 rose to four increases.
After President Trump escalated the trade tensions between the United States and several major trading partners, the outlook for payment processing companies became negative. Trade wars tend to erode consumer confidence, which could impact these companies' business fundamentals.
Trade wars tend to subdue the business environment, which could adversely affect major global economic factors. Payment processing companies generate a substantial portion of their revenues via interest income from credit card accounts and other loans. These companies are expected to witness a dip in the number and value of their loans if trade tensions impact the overall economic environment.