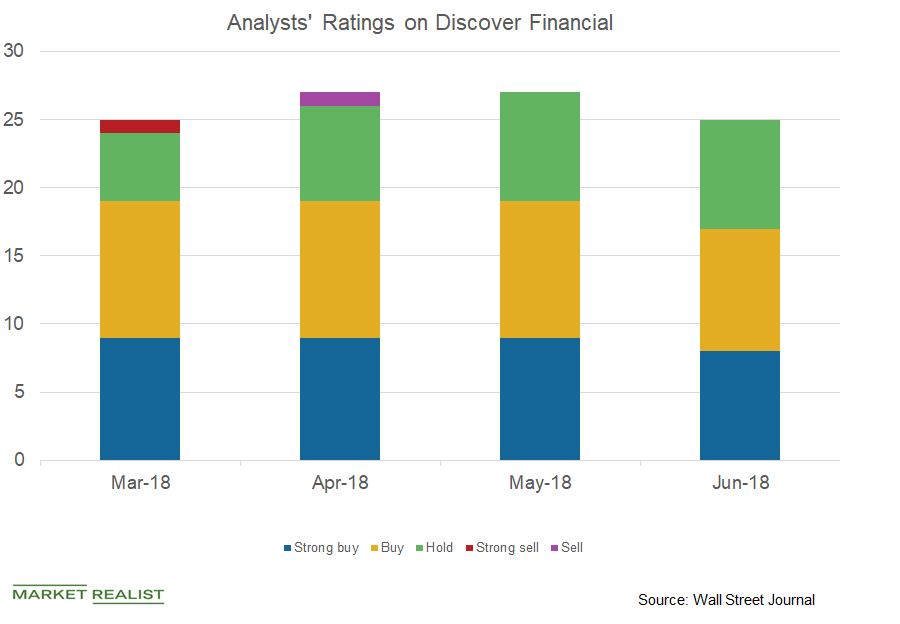 What Factors Could Influence Analysts' Ratings on Discover?
By Raymond Anderson

Jul. 3 2018, Updated 7:33 a.m. ET
Analysts' ratings could change
If factors such as an expected rise in spending and lower unemployment are to be considered, the future seems bright for consumer financial companies (IYF). Higher consumer and business confidence could lead to a rise in spending, and the revenues of consumer finance companies could see a boost.
However, growing trade tensions are a primary concern, as they could impact the performances of Discover Financial Services (DFS), American Express (AXP), and Capital One Financial (COF). Any deterioration in the global economy could affect consumer confidence, leading to a fall in spending. Thus, if trade tensions continue to rise, analysts could reduce their positive ratings on consumer finance companies.
Article continues below advertisement
What analysts say about Discover Financial
Discover Financial received eight "strong buy" ratings from the 25 analysts tracking its stock in June. Nine analysts gave the stock "buy" recommendations, and another eight suggested "holds" on the stock. These ratings could change moving forward if the global business environment and consumer confidence continue to deteriorate.
Of the total analysts tracking Mastercard (MA), 42.1% rated its stock as a "strong buy" in June. During the same month, 40% of the total analysts covering Visa (V) recommended "strong buys" on its stock. These companies' performances are sensitive to the global business and trade environment, and a downturn in the economy could impact their long-term growth prospects.