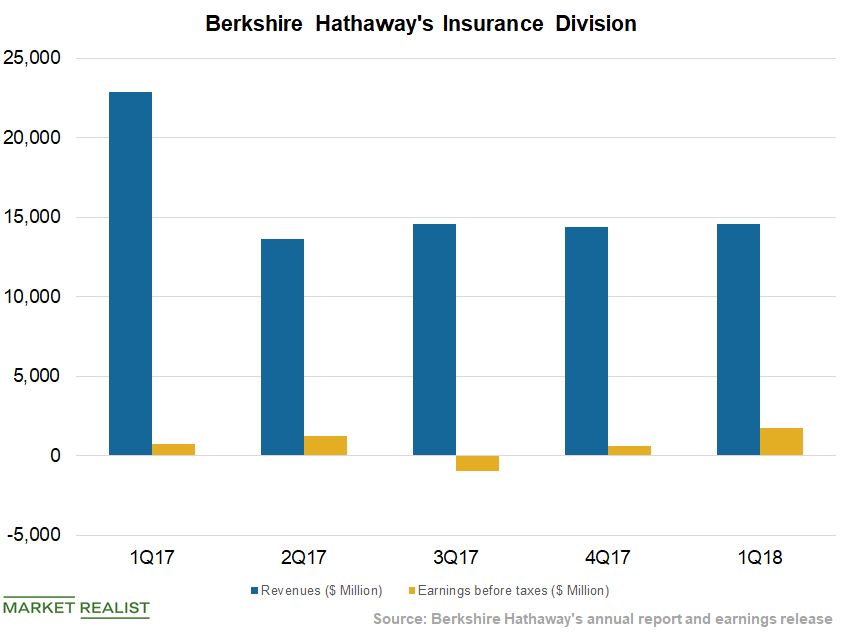 Lower Claims, Pricing, Reinsurance Key to Berkshire's Insurance
Claims to fall
Berkshire Hathaway's (BRK.B) Insurance segment saw subdued growth in the second half of 2017 on reinsurance losses, higher claims due to calamities, and subdued growth in pricing. In 2018, its number of claims fell sequentially, and its P&C (property and casualty) insurance (including auto) saw higher demand amid rising sales and growing consumer confidence.
Berkshire's GEICO and Primary Group could see higher revenues in the second quarter backed by automobile sales and renewals. Reinsurance losses are expected to fall amid fewer claims across the industry (XLF).
Article continues below advertisement
In the first quarter, Berkshire's Insurance segment managed revenue of $14.6 billion, a fall compared to $22.9 billion largely due to losses in the Reinsurance segment. Berkshire's peers AIG (AIG), Chubb (CB), and Prudential Financial (PRU) are expecting higher gains from investment income followed by growth in insurance revenue.
Operating margins
Berkshire's Insurance segment saw operating profits of $1.7 billion in the first quarter compared to $750 million in the previous year. Its profits increased on lower reinsurance losses and lower insurance losses. As pricing has improved, with lower claims and reinsurance losses, Berkshire is expected to see a marginal rise in operating profits sequentially.
The Insurance segment continues to be a major contributor to Berkshire's operating cash flows. The segment is focused largely on the retail business in the United States and the reinsurance business across major developed countries. The cash flows generated from its premiums are deployed by Warren Buffett and Charlie Munger across equities and liquid funds.
As rate hikes are expected to continue, returns on liquid holdings could rise, which could help increase investment income. The second quarter also witnessed a rise in broader equities on a sequential basis, which again could help in the augmentation of investment income.