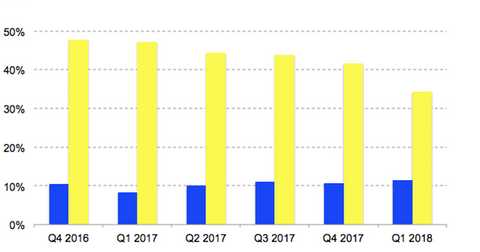 Why Analysts Have Stayed Bullish on Netflix
By Sanmit Amin

Updated
Netflix hits a fresh all-time high
Netflix (NFLX) has seen its stock nearly double this year after two stellar quarters, with subscriber growth beating analysts' estimates on both occasions. On June 14, the stock hit its all-time high close of $392.87.
The latest surge came after Goldman Sachs analyst Heath Terry raised his price target on the stock from $390 to $490. Heath is bullish on the company due to its growing content.
The streaming giant has been relentlessly splurging on acquiring and creating content. Netflix has informed investors that it expects to continue to generate negative cash flow over the next few years, which suggests that the company will continue to put cash toward creating content to attract more subscribers.
Article continues below advertisement
Netflix could continue to grow its international subscriber count
Terry projects Netflix's robust subscriber growth to continue and expects it to add 34 million subscribers in 2019. Netflix has seen solid growth in its international subscriber base as well as its domestic user base, despite the US market being a mature one for the company. The company has great scope to grow in countries such as India, which has a growing middle class and a tech-savvy young population with a great appetite for quality content. Netflix's valuation has been on par with Amazon's recently. Amazon's (AMZN) PE multiple has hovered around 200x and is still rising.
However, AT&T's (T) acquisition of Time Warner (TWX) could pave the way for other mergers—if Disney (DIS) is able to beat Comcast (CMCSA) for Fox's (FOX) assets, it could offer a great line-up for its own streaming service, which is slated to launch next year.