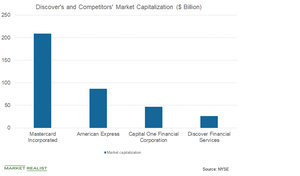 Discover's Payment Services Division: What to Expect
By Raymond Anderson

Jun. 11 2018, Updated 1:05 p.m. ET
Payment services
The payment services transaction volumes are mainly impacted by factors that are directly or indirectly related to spending patterns. Positive momentum in consumer confidence, increasing employment levels, and the stronger economy mainly contribute to higher spending among consumers. As a result, the second quarter is expected to be beneficial for Discover Financial Services (DFS) and Capital One Financial (COF). Retail loans are expected to witness a boost.
Article continues below advertisement
The recent jobs report shows that the US economy is witnessing an uptrend, which would mainly benefit consumer financial companies (IYF) like Discover Financial, Mastercard (MA), and Visa (V) in terms of higher spending. Macroeconomic indicators help determine the economy's overall strength, which acts as a base for consumer spending.
First-quarter performance
At the end of the first quarter, Discover Financial's Payment Services segment saw total volumes of $88.4 billion. The volumes from the PULSE network, Network Partners, and Diners Club were $56.1 billion. The Payment Services segment generated income before taxes of $45 million in the first quarter, which represents a marginal rise of $1 million on a YoY (year-over-year) basis.
In the first quarter, PULSE's transaction volumes rose 20% YoY. However, the Diners Club's volumes rose 14% in the first quarter on a YoY basis due to franchise relationships.
On June 9, Discover's market capitalization was $26.3 billion. Mastercard, American Express (AXP), and Capital One Financial's market capitalizations were $208.8 billion, $86.8 billion, and $47.1 billion, respectively.