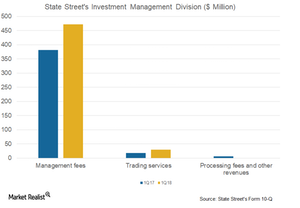 Performance of State Street's Investment Management Segment
By Raymond Anderson

Updated
Investment Management segment
State Street (STT) and its competitors (XLF), including BlackRock (BLK), T. Rowe Price Group (TROW), and Franklin Resources (BEN), are expected to be impacted by tensions over possible trade wars in 2018. Those tensions might reduce inflows from investors. State Street's Investment Management segment's AUM (assets under management) was $2.7 trillion as of March 31.
The segment generates management fees primarily on the basis of total AUMs. That could mean that when the value of its AUMs declines, it impacts the segment's management fees, thus impacting total revenues. In the first quarter, management fees represented 94.9% of the segment's total revenues, showing the importance of total AUMs in its performance.
Article continues below advertisement
What could impact the segment moving forward?
Going forward, the equity markets are expected to remain stable without any major downside risk. In the first quarter, negative momentum in the global equity markets was primarily the result of interest rate expectations and trade war fears. But in the second quarter, Investment Management's total AUM is expected to be impacted favorably, which could positively impact its management fees.
Sequentially, the segment's total AUM declined. In the fourth quarter, its total AUM was $2.8 trillion. Its performance largely depends on the condition of the financial markets. A declining momentum could negatively impact the company's total AUM, thus impacting performance.