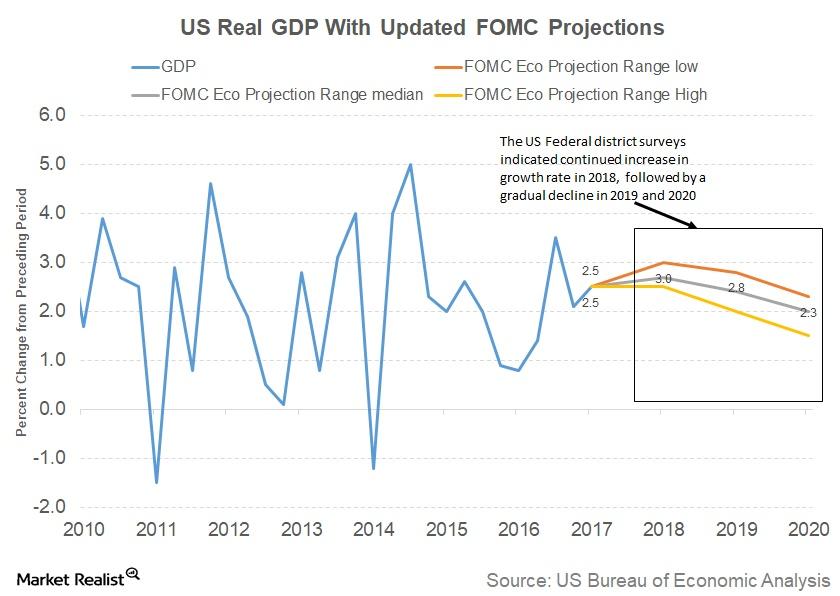 Is the US Economy on Track to Meet the 2018 GDP Projections?
By Ricky Cove

May. 7 2018, Updated 4:48 p.m. ET
Economic activity rising at a moderate pace
In the May FOMC meeting, the US Federal Reserve observed that economic activity has been rising at a moderate pace. This trend was in line with the projections laid out in the summary of economic projections report released at its March meeting. The summary of economic projections is released four times per year, and the next set of projections is expected to be released after the June meeting.
In its most recent SEP release, the Fed upgraded its GDP growth outlook for 2018 by 0.2% to 2.7%, compared to the 2.5% growth outlook in December 2017 and a 2.1% forecast in September 2017. The growth outlook for 2019 has increased by 0.3%.
Article continues below advertisement
1Q18 GDP reported at 2.3%
The preliminary GDP report for 1Q18 was released in the last week of April, and the US economy (VOO) was reported to have grown at an annual rate of 2.3% for the first quarter. This was a positive surprise, as the consensus growth estimate was only 2.0%, leading to the belief that the economy would be able to meet the growth projection of 2.7% for 2018.
This outlook strengthened the case for a fourth rate hike from the Fed in 2018, as inflation (VTIP) moved closer to the 2.0% target and the unemployment rate continues to fall.
What drove the 1Q18 GDP higher?
The 1Q18 GDP report reflects the positive contributions from personal consumption expenditure (or PCE), non-residential fixed investment (VCR), and government spending. The benefits of tax cuts and changes to the tax code helped increase industrial (XLI) economic output, leading to higher projections for economic growth.
At a personal level, disposable income has been increasing at a constant rate. This trend was helped by lower unemployment and higher wages, which increased near-term inflation (SCHP) expectations. All these factors are helping maintain the strong growth momentum of the US economy.
In the next part of this series, we'll analyze why FOMC members think inflation (TIP) could reach the 2.0% target in the coming months.