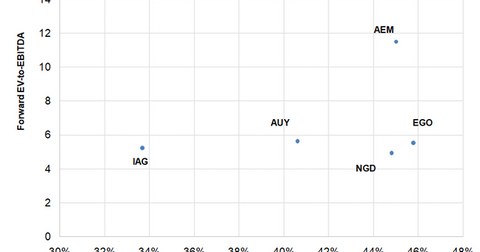 How IAMGOLD Can Reduce Its Valuation Discount after 1Q18
By Anuradha Garg

Updated
Lower historical multiple
Historically, IAMGOLD (IAG) has traded at a lower valuation than its peers. However, after its significant turnaround in 2017 and year-to-date, its discount versus its peers has decreased. 
IAG stock is currently trading at a forward EV-to-EBITDA[1. enterprise value to earnings before interest, tax, depreciation, and amortization] multiple of 5.2x, which implies a 13.2% premium to its average multiple from the last five years. Compared to its intermediate peers (GDXJ), the company is trading at a discount of 21.0%.
Article continues below advertisement
Reasons for the contraction of the discount
Among IAMGOLD's (IAG) close peers, Agnico Eagle Mines (AEM), Yamana Gold (AUY), Eldorado Gold (EGO), and New Gold (NGD) have forward multiples of 11.5x, 5.6x, 5.6x, and 4.9x, respectively. 
While IAG is still at a discount to its peers, its discount has decreased. The average multiple for IAG and its peers for the last five years imply a discount of 45.0%, compared to the current discount of 21.0%. The reasons for IAG's discount contraction follow.
IAG's fundamentals have improved significantly. Based on the reserve updates and other organic growth opportunities, its future production growth seems real, which previously had been an investor concern. The additional production is expected to come in at a lower cost, which is expected to improve its cost position. Its project pipeline remains full, which has restored investor confidence.
The fundamentals of some of IAG's close peers have worsened. Eldorado, for example, has been facing several issues at its mines in Greece and Turkey. New Gold's valuation multiple has also taken a hit due to several operational issues.
Going forward
IAMGOLD's (IAG) multiple has improved significantly in 2017 and year-to-date due to its positive exploration results. However, other catalysts could lead to the rerating of IAG stock. As we discussed previously in this series, Essakane's pre-feasibility study results are due in 2018, which has the potential to add three to five years to its mine life. The resource estimates for its other projects are expected in 2018 or 2019.
These factors have the potential to boost production and reduce costs for IAMGOLD as a whole. Such positive results could lead to a rerating of the stock, so investors are expected to keep a close eye on these developments.