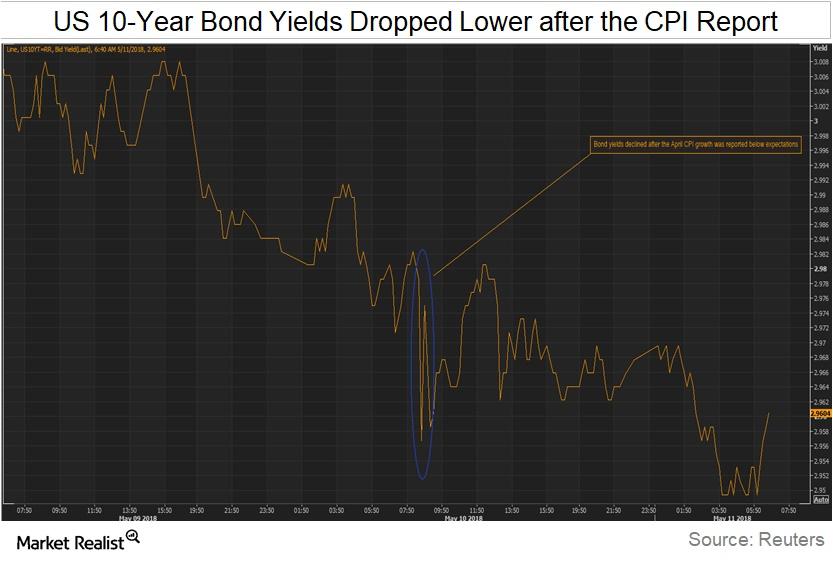 Bond Yields Fall after April Inflation Data Release
By Ricky Cove

May. 14 2018, Updated 4:05 p.m. ET
Inflation and bond yields
US bond market investors were relieved after the US Bureau of Labor Statistics' April report, published May 10, indicated a lower-than-expected inflation growth rate. Inflation (TIP) diminishes investors' real returns and the continued inflation growth in recent months has pushed bond investors into further losses. The latest inflation (VTIP) report indicated that core inflation increased at a slower pace of 0.1% in April, boosting hopes for a slower pace of rate hikes from the Fed. At its May meeting, the Fed stated that it would continue tightening and inflation (TDTT) would reach 2% in future months. Bond (BND) yields rallied after the statement and rose to a four-year high at the beginning of this month.
Article continues below advertisement
Bond yields fall after April inflation print
US bond yields cooled off after the April inflation growth report missed expectations. This report comes on the back of a disappointing jobs report in the previous week, which drove inflation (SCHP) expectations and bond yields lower. While ten-year yields dropped to 2.9% after the report, chances of yields rising in future months are high.
Bond yields going forward
The decline in bond yields after the disappointing jobs and inflation reports could be temporary, as inflation expectations may be fueled by higher crude prices. In a self-destructing loop, energy prices could drive inflation higher, and the Fed would be forced to increase rates faster to combat rising prices. Therefore, this drop in bond yields should not be celebrated, as they could rise in future months. In the final part of this series, we'll analyze why the US dollar depreciated after the April inflation report.