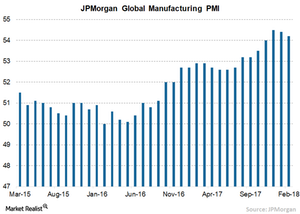 Why Synchronous Growth Is Driving Global Demand
By VanEck

Apr. 3 2018, Updated 8:00 p.m. ET
VanEck
Economic/business cycles are never exactly the same, and the current cycle is no exception. But we are most likely entering the late stages of this expansion. Once again interest rates are rising along with commodity prices. This economic upturn has been the slowest post-war expansion we have experienced and is soon to become the longest. Consequently, the global economic expansion has taken longer than expected but is gaining momentum. Demand is starting to outpace production and available supply in several important sectors.
Article continues below advertisement
Market Realist
Synchronous global growth
For the first time since the global financial crisis, we're seeing synchronous global economic expansion that's creating jobs, boosting consumer confidence, and strengthening capital expenditures. According to the IMF, the global economy is likely to grow 3.9% in both 2018 and 2019, compared to 3.7% in 2017, with private investment and trade bolstering on the back of strong business and consumer confidence.
The strong economic growth in the United States (IVV) underlines the importance of growth drivers like tax cuts, fiscal reforms, and higher infrastructure spending. Europe (VGK) is seeing the positive impact of stimulus measures initiated by its central banks. Even Japan's economy has grown for eight straight quarters as of 4Q17, marking its longest continuous expansion since the 1980s. After some uncertainty, China (FXI) has diminished fears of a hard landing while its economic growth is now settling around 7%. Rising commodity (GSG)(DBC) prices have lifted many economies in the Middle East and Russia, while India is rebounding to report over 7% growth. Brazil is showing signs of recovery while Mexico is still holding on despite US trade pressures.
As the global recovery is widespread, factories across the world are seeing additional orders to meet rising demand. The J.P.Morgan Global Manufacturing PMI, a composite index of manufacturing, stood at 54.2 in February 2018—one of the best readings since early 2011.