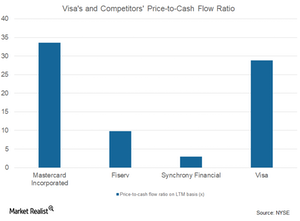 Visa Ready Enters New Partnerships, Outlook on Fintechs
Technology companies
On February 27, 2018, Visa (V) announced that it had added 14 technology companies to its Visa Ready for Transit program. In November 2017, the company began the program, initially adding Worldline and Vix.
This program focuses on adding companies that support commuting through public transportation with the help of contactless payments.
Visa's management has a positive outlook on this program. According to top management, transit companies are keen to learn how the advancements being made in the payment space can streamline the customer commuting experience. In this way, the program has witnessed a positive response from the companies. However, in 2017, Visa's competitor (XLF) Mastercard (MA) also made it easy for travelers to make payments.
Article continues below advertisement
Visa also working with fintechs
Visa is expected to witness positive momentum in the program with the help of fintechs (financial technology companies). According to its management, the company is helping fintechs to streamline the execution of transactions that involve lower costs. The company plans to become the preferred option for clients and to increase its presence in the market.
Visa has a price-to-cash flow ratio of 28.78x on a trailing-12-month basis, and its peers Mastercard (MA), Fiserv (FISV), and Synchrony Financial (SYF) have price-to-cash-flows of 33.53x, 9.80x, and 2.92x, respectively, on a trailing-12-month basis.